'There Will Be More Trouble For AGN'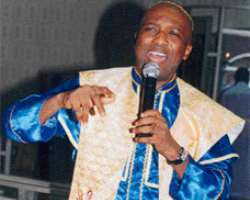 In the wake of the leadership crisis that has been rocking the Actors Guild of Nigeria (AGN), the founder and General Overseer of INRI Evangelical Mission, Primate Babatunde Elijah Ayodele has predicted that the guild will face more problems.
In his yearly published divine spiritual book titled Warning To The Nations, Primate, as he is popularly called, said AGN needs prayers to avert troubles, advising them to seek God's protection and guidance.
"This body will face court cases. There will be opposing factions working against the administration of AGN, and the administration will not be popular. Its efforts and sacrifices will not be appreciated," he predicted.
In the book which was launched last Friday, Primate warned that there is going to be a lot of problems for film directors and marketers.
"Some Marketers will lose because the film industry is going to experience total reform. Apart from this, there is going to be another measure to deal with piracy. We need prayers so that a producer and film director will not pass on.
"There will be leadership crisis and disunity in ANTP. We need prayers against sickness and death that will affect a prominent artiste," Primate predicted.
Warnings To The Nations is a collection of divine signals by the man of God who is popularly known for his accurate predictions. He predicted the death of Michael Jackson.