ME DATE BANKY W ! NO WAY.SONGSTRESS TIWA SALVAGE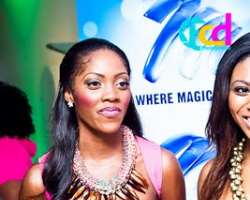 Tiwatope Savage is arguably one of the hottest artistes making waves in Nigeria at the moment.
In less than one year,the song writer/singer has carved a nitche for herself in the Nigerian music market and her hit song,Kele Kele Love has become an anthem in many homes.
Her style of music and stage craft is unique and Tiwa has not disappointed her esteemed fans,both home and abroad.
The 2010 Grammy Awards nominee, in a recent interview opens up on the real reason she cannot date the debonair "Lagos Party" star, Banky W, let alone marry him.
She said; "I have known Banky W for so many years; he is also very good looking. But, I can't compete with all these other girls because I can't fight, he has a lot of female admirers, I don't know if I would be able to handle that."
Asked about her romance with Dr.Sid;she said, I heard the news but I don't do kele kele love.If I am romancing anybody,I would not do it secretly.
The rumour started when I featured in his video,Over the Moon and a lot of people are saying that the chemistry was really good.
I really admire Dr.Sid.He 's a good musician but we're just friends.
Right now,I am in a relationship with music.I will say music is my boyfriend right now