Wayas, Charly Boy Barred From Flying Arik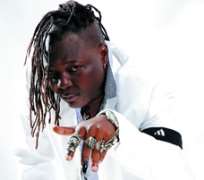 Second Republic Senate President, Joseph Wayas, has been barred from flying Arik Air over what the management of the airline described as unruly behaviour while onboard.
It is the same story for show business impresario, Charles Oputa, popularly known as Charly Boy.
As for Charly Boy, former president of the Performing Musicians Employers' Association of Nigeria (PMAN), he was handed the ban for forcefully occupying a seat in the business class instead of economy class, which ticket he had.
According to a memo pasted on the airline's notice board at the ticketing counter at Murtala Mohammed Airport, Ikeja, Charly Boy's ban took effect from January 16, 2009 and will expire on January 16, 2010.
His offences as published in the memo include "non-cooperation with cabin crew, booked on economy class but wanted to seat in business class and, also threatened to deal with the crew when they sought to correct him."
Wayas offence is also said to be similar to that of the maverick musician.
Aside these two popular personalities, the list also contains the names of five others including a journalist (names withheld) who was accused of writing "a degrading but untrue story" about the airline.
The ban, according to the report, will last a whole year.
Effort to get both Wayas and Charly Boy to react to the development were unsuccessful as they would not pick calls put through to their mobile phones or respond to SMS sent to them.
However, Banji Ola, the airline's spokesman justified the action by saying that "it is a standard practice worldwide that passengers considered as threats to other passengers can be prevented from boarding."