UN Bombing: SSS Offers N25m For Info On Mastermind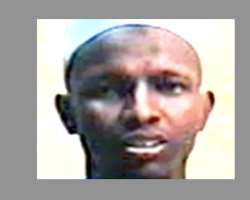 THE SSS FILE PHOTO OF MAMMAN NUR.
SAN FRANCISCO, September 18, (THEWILL) – The State Security Service (SSS) Sunday offered a N25 million reward for any information that could lead to the arrest or conviction of the 'mastermind' of the bombing of the UN Nigeria headquarters in Abuja on August 26, 2011, that killed 23 persons including foreigners.
A statement by the spokesperson of the agency, Mrs. Marilyn Ogar named the mastermind as Mamman Nur.
"A reward of 25 million naira is being offered for information that could lead directly to the apprehension or conviction of Mamman Nur. Attached herewith is a picture of Mamman Nur. He is still declared WANTED.
"If you have any information concerning this person, please contact the nearest Police Station, Military formation or any other security agency," the statement added.
Two persons belonging to the radical Islamic sect Boko Haram – Babagana Ismail Kwaljima (Abu Summaya) and Babagana Mali (Bulama) -- were arrested a few hours after the bombing.
The SSS had earlier said Mamman Nur had received training from Al-Qaeda in Somalia.