I ENJOY PALM WINE AND UKWA -KRUIF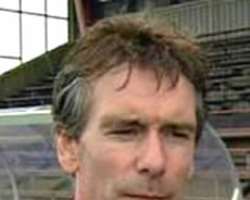 Despite the security concerns posed by the spate of bombings by the nefarious religious sect, Boko Haram, as well as the danger of travelling on bad roads across the length and breath of the country for league games, Technical Adviser of Heartland FC of Owerri, Lodewijk de Kruif, says he is in love with Nigeria.
The Dutch tactician, who is still in his first season with the Owerri Premier League side, told Saturday Sunsports that he has not only made a lot of friends since he arrived the country, but also has fallen in love with some of the local delicacies.
A regular visitor to Ibari Ogwa, a popular relaxation spot in Owerri, the capital of Imo State, Kruif said he enjoys fresh fish pepper soup popularly known in the local parlance as 'point and kill'. But the Heartland gaffer is more in love with the taste of 'ukwa', a native delicacy prepared from breadfruit with peppered sauce.
The man, who has guided the eastern team to this year's Federation Cup final, the first time since it lost to Plateau United in 2000, relishes the prospects of tinkering the team to win a trophy for the first time in more than 18 years. He spoke on a number of issues about his experience in Nigeria so far, his team, Nigerian football and others.
We serve you the excerpts for your Saturday delight. Happy reading!
Breaking jinx
I'm not really interested in boosting my CV (Curriculum Vitae) by winning the Federation Cup, but would like to win something with Heartland to end its long years without silverware. That is what is important to me. When I arrived, the team was 14 points behind Dolphins and Sunshine Stars. I figured that winning the Premier League would be difficult so we decided to give the Federation Cup our best shot.
Players' mentality
I've been able to talk to the players and changed their mentality to imbibe the 'we can do it spirit'. I told them they could write their names in gold by winning the Federation Cup and I'm happy they responded well to my advice.
Meeting Enyimba in Federation Cup Final
We are not afraid of any team at this stage of the competition. I know that Enyimba is a big team in the country and in Africa having won the CAF Champions League twice. I have not played against Enyimba because I had not arrived when Heartland played against the Aba side, but football can be funny. That is why we cannot underrate any team.
Secret of success in Federation Cup
We decided that we were going to win the Federation Cup since the league was out of our reach. So, we have approached every match in the competition as the final.
Chibuzor Okonkwo and Mosquito's absence
Yes, we missed Chibuzor Okonkwo and Mosquito (Ikechukwu Ibenegbu) in the semi-final match against Bayelsa United. They are quality players who would have added more bite to the team. I hope they would be available for the final.
How to improve Nigerian League
Those in charge of the game in Nigeria should programme the Nigerian League in line with the international football calendar. It is wrong to have the players going on trails in Europe while the season is on. Clubs should enjoy the services of their players, especially the quality ones. If the quality players are always available, they add quality to the league, while their absence takes the shine off the domestic league. It discourages fans to come to the stadium and watch league matches.
Nigerian roads and security concerns
Travelling on Nigerian roads for league matches almost on weekly basis has been very interesting, because I love travelling. I have known many parts of Nigeria and I know that the country has different tribes. I find it interesting travelling from one part of the country to another even though it entails a lot of risks because the roads are very bad.
I think that Kano is the worst city in Nigeria. The traffic is very chaotic with motorbikes all over the place. The streets are dirty as well.
Security concerns in Nigeria
Bomb attack is a global phenomenon. The situation in Nigeria is really unfortunate, but I am not discouraged by the spate of bombings in different parts of the country. However, I would want the Nigerian government and the relevant authorities to do something urgently to stem the tide of violence. Could you imagine that we (Heartland FC) left Abuja about two hours before the United Nations Secretariat was bombed.
My family (in Holland) has been worried about the spate of bombings in Nigeria. But I have a job to do here and I would not allow the ugly incident to distract me. I have no intention to leave Nigeria because of the security concerns. I have only become more security conscious. For instance, I don't go to nightclubs or public places quite often. I spend more time in my hotel when I'm not at training.
Friends and Nigerian foods
I've been able to make friends in Nigeria since I arrived the country. I go to nightclubs once in a while with some friends. My family runs food business in Holland, so I don't really have any problem choosing what I eat.
However, I've tried some of the Nigerian local dishes. I go to a popular relaxation centre in Owerri called Ibari Ogwa. I once went to a village near Owerri with some friends and we ate 'ukwa' and I really enjoyed it. I also drink palm wine.
The first time I drank palm wine, it tasted soar and I was told it had spent some days, but the second time I drank it, it was fresh and sweet and I enjoyed it.