MICHAEL JACKSON: THE SOUNDTRACK OF OUR LIVES.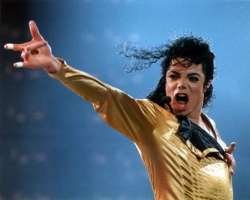 I was born in the late sixties and every decade of my life has been rocked by the music of Michael Jackson. From the trendsetting Jackson Five to the legenday King of Pop, Michael Jackson is the artist with the longest staying power in our lives. For all of us.
I can't exactly remember when I started my love affair with his music, that train was already rolling by the time I boarded it. But I clearly remember when I saw the video "Don't Stop Till You Get Enough" from his hugely successful debut album "Off The Wall" for the first time. I was barely a teen and I was in awe of his elegant frame in a tux, smooth ly swaying to the beat. So many decades later, I still have that feeling every time I see it.
And when you consider what his career came to be in later years, that video was jut an appetiser of so many more delights to come. The promise that video held is mind-blowing. And it will still be in half a century from today. From the heart-breaking confession of a distraught lover in "She's Out Of My Life" to the costume of lights and pearls in "Rock With You", that maiden effort sounded like a serious warning to those who might be concerned. All of us.
The eighties had just began and I was in my early teens when "Thriller" took the world by storm. This milestone in the music recording business shattered every record imaginable by any standards. "Liberian Girl" particularly touched my heart because of the intro in Swahili and Michael showed a soft spot. The title track "Thriller" has gone down in history with all the superlatives and the greatness that we all know.
Quite strangely, I believe that "Thriller" came in Michael's career like a double-edge sword. It was his blessing and his curse. It undoubtedly established him as the greatest entertainer of all times for generations to come and beyond. It broke records upon records in the music industry globally, it harvested every thinkable award an artist could win, and it earned him more money than he could spend in his lifetime. On the other hand, the standard was now set so high that even he Michael Jackson couldn't come anywhere close to his own masterpiece anymore. And this proved a tragedy for the consumate perfectionist that he used to be. Even for the King of Pop.
Nevertheless, the albums "Bad" and "Dangerous" were just as finely chiseled and fine-tuned though according to the critics, they never came close to their illustrious predecessor. Because he had so fiercely shielded his privacy and no one could come anywhere close, the wildest rumours were spreading like wildfires on his diva attitude, his weirdness, the lavish spending, the feuds with his family, the immoderate love for animals, the hyperbaric chamber, the remains of the Elephant man, and the fake romances with white actresses in the limelight. To name but a few. None of those ever discouraged me. I believe that he was an exeptional beeing and because of that he was entiltled to his own whims and fancies.
Then came the nineties and the fall from grace. For real. The rumours of child molestation accusations and the trial, the self-bashing Bashir documentary, the baby-dangling business at a German hotel balcony, the ever-whitening skin tone, and so many other incidents just slowly ate away at the spotless reputation of a man who had spent all his childhood, youth and adult life in the industry. Even I found it hard to turn a blind eye and a deaf ear to the incriminating behaviour Michael himself was displaying in the media circus that his life had become. The man I loved since childhood had become a laughing stock and stand up comedians were having a field day with him every chance they got. The pain was excrutiating, but I held on.
It was increasingly difficult to be confronted in the media with his cadaveric skin tone, gaunt and hollow-cheeked face, his nose seemed to be missing a piece on each new picture. He was splattered on a daily basis in the headlines about everything and mostly nothing. And I helplessly watched the man who single-handedly reinvented the music of the modern era become a caricature of himself. As I was wondering what in the world what was going on with him, it tore my heart to think that he might have been wondering the same thing.
Untill this Thursday morning June 25th 2009. I just woke up and turned on my computer as I always do. A headline caught my eye and I screamed. I grabbed my mouse and browsed from news site to news site faster than I care to remember. It was there. Black on white. So I grabbed my phone and called every one I could think of.
As the day unfolded and more news on the tragedy became available, the initial feelings of grief and sorrow slowly made way for a deep understanding of our human destinies. Michael Jackson had spent 45 of his 50 earthly years making music and entertaining the masses. He wowed generation upon generation with his prowess on stage and an inner sense of rythm so often copied, but never equalled. He was like a shooting star, so majestic yet unreal. Many tv stations on the cable amended their programs and music channels have been playing his music uninterruptedly. All the videos he ever made have been played. And when you watch that, and you see clips of your own life flash in front of your very eyes, you quickly dry your tears and you thank the Almighty for giving him the capacity to bring so much joy to our hearts.
I miss him already, but watching tv newscasts reassures me that the world has chosen to remember only the greatness and the magic of the most talented entertainer of the century. All centuries included. The magician who wrote the soundtrack of our lives has earned himself a piece of eternal rest.
Rest in peace my brother, your work will speak for you for generations to come.
By Paula EXCLUSIVE for http://nollywoodgists.com