NTA dramas cost me my job —Livinus Nnochiri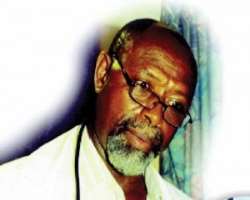 If were familiar with the NTA Channel 10 popular TV dramas such as, 'Tales by Moonlight" and "After the Storm" aired in the 80s, the name, Livinus Nnochiri will strike no strange chord to your ears. Nnochiri was one of the earliest talents in Nigeria who started out from the stage, before moving to the big screen. But while he acknowledged the joy and happiness acting has brought to him, the veteran actor will not forget in a hurry how his former employers at the old P&T, and NIPOST forced him to retire from the ministry against his will ,following the fact that he featured on NTA drama series."They said they watched me on NTA, and that I was indulging in PP," he recounts. That's not all, Nnochiri also talks about the roles he plays in movies as well as other burning issues in the film industry. EXCERPTS:
Role in Movies
No actor determines the kind of role that he gets. But the producers assign roles to us, according to every individual's ability to deliver his lines. At my age, nobody will give me the role of a lover boy or a criminal but that of a father, a senator or somebody who is well placed in society. Those are the kind of roles that I am oftentimes given to play. It has to go with age. It's not as if the roles I play in movies affect my relationship with my family. Not at all. Livinus Nnochiri that people know is a very homely man and a real father to the core. I am a true Christian. When I play one role, and do it very well, the producers will say, 'let's give him the same role in the next movie'. Otherwise, even if it means to play the role of a blind man, a layman or a mad man, I am equal to the task. I interpret my scripts very well, and after my work, I go back to myself. So, what I am in my home and what I am in movies defer. When I interpret my roles, it doesn't mean that it influences my attitude towards my immediate family members.
My journey
My journey into the film industry started when I was in the secondary school. Then, acting was something of a talent. Some people had to pass through the university studying Theatre Arts, only to end up not to act. Take it or leave it, acting has to do with talent. While in secondary school, we formed such clubs as debating club, dramatic club. I started from there. After passing out, I went to work in Radio Nigeria, where I was presenting programmes in Owerri. Somehow, I got involved in radio drama. But I finally moved to Lagos. I started with the stage performance. I later became part of the casts of the old NTA drama series, 'Tales by Moonlight' and 'After the Storm' from where I was ushered into the world of make-believe.
Difference between stage and big screen
The difference is that the stage prepares for the big screen. If you are stage person, you know how to deliver your lines perfectly well, interpret your scripts and move with your lines. But it's not the same with the big screen. Acting is everything combined. Stage performance gets you prepared for the big screen; from TV acting, the movie world is just by the way. It is easier to be on the screen than to go on stage.
Years of sojourn
Everything combined, I have put in about 12 years in the film industry. I started from the stage, before I moved to the big screen. From the beginning, it was a bit rough, because then, I was business trying to build up myself. But the breakthrough started surfacing about three to four years ago. In terms of financial reward, let me be very frank with you, Nollywood is yet an individual industry. The government has not established it's presence in the industry. The industry till today is run as an individual company by people who invested their money to make the films. So, financially, Nollywood has enriched very few practitioners, whereas many others have remained at the bottom of the ladder. That's why we are insisting on purposeful leadership that will be focused to deliver the gains of the industry to all and sundry. At least, when one is able to feature in three or four films in a year, he could be alright for that year. But it's not like that now. Some actors and actresses feature in more than fifteen movies in a year, yet they don't have enough to take home. The time is yet to surface when Nollywood stars will be happy to claim to be a star.
The poor, and the rich in Nollywood
Nollywood is yet an individual industry. When, I, as an industry, put down my hard earn money to shoot a film, what do you think will occupy my mind than to feature faces that will sell the film. And if I succeed in engaging at least four or five of the popular faces and pay them well, every other person featured in that film will go home with a peanut. It doesn't matter. The producer is more concerned about featuring faces that will sell his film to enable him to recoup his invested capital. For the fact that Nollywood is still seen as an individual investment, things will have to take shape little by little. When it gets to that stage, everybody will jubilate. There are loopholes everywhere, even in our homes, in government and in society. But the loophole I foresee in Nollywood is that the industry needs leaders who are well positioned, sincere and committed. Otherwise, Nollywood is moving at a pace dictated by the individual investors.
Financial status
I am richer now, because when I was venturing into the entertainment industry, I was still working with the Ministry, then, P&T, and NIPOST. Then, things were not working out well for me. I used to be on the casts of 'Tales by Moonlight' and 'After the Storm' aired on NTA as at that time. At a point, my employers felt that I was engaging myself in other things to make ends meet. They decided to sack me. There and then, I opted to go into full time acting. I am better off now than when I was working as a civil servant.
Rash action of my old employers
They said I was engaging myself in 'PP' (private practice). But somebody like St. Obi, who is made today, started from soaps, and then, Obi was working with the old P&T. Uncle Layi Ashadele was working with the bank when he featured in a soap opera. So, it's not a hidden thing that somebody is working and at the same time finds time to do other things to help himself. It didn't disturb my job then. But my employers were not happy with me. It was sheer wickedness, and ethnic sentiment that was at play, because then, I was working in the midst of Yorubas. As a result, I was forcefully sent on retirement and that was after I had put 14 years in service. Thanks be to God, I am today better off than those wicked souls who retired me forcefully. Initially, they wanted to put it as sack but for the intervention of the workers' union, it was reversed to retirement. Now, they are paying me peanut as pension. Throughout this year, NIPOST has not paid me anything as pension.
'Tales by Moonlight'
It is no longer what it used to be when we were part of the cast. I don't know how they are running it now. Those days, it was aired 5 pm every Sunday, and families would gather to watch the programme. Then, it was fun. But today, the fun is no longer there. We were only paid N1000 per episode and I must tell you, till date, NTA is still owing me some money.