Twin Explosions Rock Jos Joint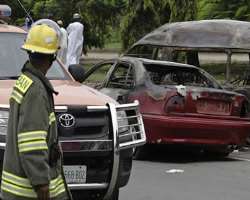 JOS, September 11, (THEWILL) – Two simultaneous explosions have rocked a popular area called West of Mines in Jos, Plateau state.
The explosions occurred at about 8.15pm, when activities at the area, which houses several eating and drinking joints and grocery outlets, were at their peak.
An eyewitness, Mr. Sunday Chibuzor, said that the suspects drove into the joint in two vehicles - a dark Peugeot 406 and a red Opel Vectra – with unusual speed, dropped the devices and sped off immediately.
He said residents of the area had always expressed concerns over threats by some hoodlums to bomb the area which is predominantly populated by Christians and a meeting port for social activities in Jos.
Men of the military Special Task Force (STF) and the police anti-bomb squads have arrived the scene to calm youths, who are already agitated.
There are no records of any deaths as a result of the explosions.