BRAVE ENTERTAINMENT UNVEILS NEW R N B SENSATION (J-PRYCE) TO THE MEDIA.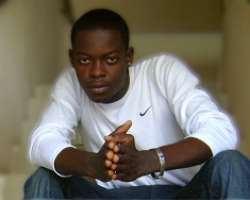 At the beautiful scenery and exquisite looking Conference Hall of Protea Hotel, Maryland was the gathering of media organisations, Club D.Js, FM D.Js, friends, families and stakeholders in the music industry, on Sunday 21st June, 2009 to unveil a new group of brave hearted young professionals in the industry called Brave Entertainment and the firm's first artiste known as J-Pryce.
In the bid to show that they came prepared, the event started at exactly 2.00pm as scheduled in the invitation, it was an assemblage of the best of Radio/FM(Eko FM, Cool FM, Raypower FM, Star FM, Choice, Brila FM, Top Radio, Rhythm FM etc) and Club D.Js in and outside Lagos amidst others were in attendance. As if that was not enough, we had AIT, LTV, TVC, STV, Artistes Zone, Theatrips, Video Wheels etc. Also in attendance were journalists from Punch, Guardian, Sun, Encomium, Global Excellence, Hip-Hop Magazine etc.
The event was anchored by an amiable but gorgeous Miss Deola Osunkojo of Rosabel Agency and intermittently supported by Alayande Stephen T. of ZMC. The artiste, J-Pryce was unveiled to the media by Brave Entertainment CEO/MD, M-WHY Ade-Oni amidst strobe light and fire-works effect provided by Zmirage Multi-media Ltd. He performed four different tracks namely Gboju Mbe with , Lover Boy, and the two rave of the moments Shake it and Iwo Nikan to the delight of the audience. Collins Abiodun Dada a.k.a J-Pryce was expectedly delighted as he promise to continue to work hard in order to satisfy his fans." I am impressed with the turn out of the media and the DJs, many have come to congratulate me and honestly am flattered. But the message is that I should not rest on my hoarses, I have just started and there is still a long way to go. And like the title of this single connotes (Came Prepared) am prepared to face all hurdles and move to the pinnacle of the industry, you ain't see anything, with your collective support, we will get there" he averred.
His performance shows that the R n B genre of our music has gotten another genius to watch out for. His cool, calm and collected approach while performing showed his level of maturity and coordination, his stage craft was exceptional as he carried the audience along very well on the lyrics of the songs. The lyrics of the song are something that gives many hope that the industry can be better in terms of message and content. All his songs have good story lines that mainly dwell on issues around love, societal vices and good virtue. Many adjudged his hit track "Iwo Nikan" as something to be proud of as Nigerians.
Obinna Okereke of Video wheels had this to say" well, I must be honest with you, when I first heard that track, I thought it was R.Kelly singing until I got to the chorus part which was in Yoruba language, he will go a long way and we are ready to support him".
Denike Fadina, a marketing consultant could not hide her feelings" this songs will not only get enough air play but it will spread like fire amidst the youths, ladies especially. I won't compare him with R.Kelly but am sure, soonest, people will begin to mention him whenever and wherever we mention the likes of Dare Art Alade, Paul Play, Banky W etc because he is got the quality that will market the song. J-Pryce is good looking, handsome, good voice, appealing look, lovely and deep lyrics, (no vulgarity), exceptional stage craft and a scintillating delivery or you call it swagger if you like, he should just go for a good video and the magic will start".
Ayomide Tayo of Hip Hop world Magazine" this is good no doubt, but he sure need to promote the songs very well, because good song alone is not enough. Again, I learnt he produced his songs himself, then, I say big congrats to him".
Many wondered why would these young guys venture into artiste management and show business when many seems to be running away from the field, no thanks to piracy, lackadaisical and heady attitude of artistes after little or semblance of fame, lack of funds amidst other plague that is eating deep into the artiste management profession. However, the man behind Brave Entertainment, an easy going graduate of Architecture of Federal College of Technology, Akure(FUTA), M-WHY Ade-Oni had this to say "Brave Entertainment is birthed with the sole aim of discovering and nurturing into stardom young, exceptional and creative acts that will tomorrow rule the industry. We have a quest and desire to work with acts who has message for the society and whose music whatever genre should make meaningful impact. It is our pleasure to inform you that we have over the period of time searched the nooks and crannies of the country with the vision to search for the best and today we have come up with our first artiste J-Pryce".
Many have asked the question do you guys have the facilities to promote and sustain this project "M-WHY said like the Japanese said Good Thinking . . .Good product, if you have a product that is unique and can communicate meaningfully/positively with the people, the product will sell itself, we have a lot of package up our sleeve, don't worry" he boasted.
The event ended at about 4.15pm amidst songs, dance, post-event interviews, photo session etc.
Alayande Stephen T.
Media Consultant