Crazy things I've done for love -----Sandra Ejikeme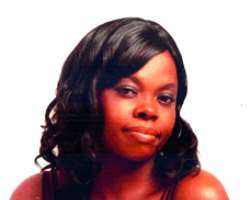 Having worked under great names like: Dagogo Diminas Jack, the late Amatu Braide and a few other veterans in the creative department of Nollywood, AMA Awards 2009 nominated make-up artist, Sandra Ejikeme, is poised to rule the world and move her thriving career to the next level.
With over a decade experience in tinsel town, Ejikeme, who started first as an actress before veering into make up, is also a costumier and stylist of repute.
With age still on her side, the unassuming spinster with eyes on the global scene, is, however, of the view that Nollywood can also produce an Oscar winner in the Make Up category if properly harnessed, based on the abundant talents available in the industry.
Speaking with us, in her first major interview, during a recent courtesy visit to our corporate head office in Apapa, Ejikeme, from Obosi, Anambra State, bared her mind and further told us what makes her unique, as well as the nasty things she has done in her quest for true love.
You were among the nominees at this year's AMA Awards, but ended up not winning. Did you feel bad?
No, I didn't feel bad, being nominated for me, was as good as winning the prize itself. No doubt, I came to the awards expecting or hoping to win like every other nominee. I was and still very proud of myself and career in Nollywood and has even started working very hard to win in the next year's edition.
Tell us more about The Assassins, the film that fetched you the nomination?
Okay! Assassins is a big budget film that we shot in Sierra Leone, for over a month. I even sacrificed my Xmas, which I normally spend with my family here in Nigeria, for this particular movie. Sincerely, I sacrificed a lot on the set of that movie. In fact, I did not only handle makeup on that set, I was also in charge of the costume and it was a large cast. The costume person did not make the trip, so I had to assist her.
When you saw your name as one of the nominees in that category, how did you feel?
I felt on top of the world and thanked God for making it possible. It is not easy being recognized and appreciated as one of the very best not only in Nigeria, but the whole of Africa. For me, the wait was worth the while. Though, I feel happy and excited, but winning would have been the icing on the cake for me.
Between make up and costume, which did you start first?
I started with costuming first and the late Amatu Braide trained me. I later worked with Millicent Jack and several other big names, before veering into make up with Dagogo Jack's 13 Fat Man. I look young, but this is my 13th years in Nollywood and seven solid years as a make-up artist that has been on her own. Surprisingly, a journalist like you, Mr. Chu Nwankwo, brought me into the industry, he used to be with MBI.
So, what now informed your love for make up?
Ekenna Igwe, who is one of my mentors in Nollywood, was the person that suggested that I should go into make up, after seeing how passionate I'm in helping people to look good always. He eventually handed me over to Dagogo Diminas, who groomed and nurtured my growth and career in Nollywood, till I left him to establish Sandito Creations, which is my outfit.
My first set of make-ups were in movies like: God Is A Joker, several of Chico Ejiro movies and many others, some seven to eight years ago. Actually, I do more of make up than costuming because of my passion for making people up and seeing them look good. I also like looking good and intend travelling out soon to go and study more about make up in Europe or South Africa. I will say it for the umpteenth time, I love make up. Making up people or even myself, makes me to be creative. I like to create new things and also experiment whenever I'm on set. I can turn people into monsters or Monalisas on set, depending on what the script says.
Aside Dagogo Jack that trained you, who are the other people you look up to in the make up world?
I have so much respect and regard for the boss of Gabazini Concepts, Gab Okorie, we were all together at 13 Fat Man, he has really done well for himself. I also admire Perewinkle, for his creative ability, who's also another great member of 13 Fat Man.
You've said so much about 13 Fat Man, what was it like working with this outfit?
It was fun, nice, rewarding and also tasking working with 13 Fat Man. I learnt a lot from the outfit. It also helped to shape my career in Nollywood. I still respect and admire all the old members of that wonder production outfit that further helped to shape Nollywood in terms of creative designs. I learnt a lot from our boss then and even my colleagues. Another thing that helped shape my career were the several books on make up that Mr. Dagogo Jack recommended for me, which I read whole heartedly. He is a wonderful boss.
What does it take to be a great make up artist in Nollywood or elsewhere?
To be honest with you, determination and the creative mind are the first set of steps. You must also be hard working and willing to learn, even under harsh conditions. In doing all of these, you must continually ask yourself, what do I want? So, that you don't get carried away, while on the job. My aim as a make up artist is to be among the best globally, and I see that happening very soon, because I'm working hard towards that every day.
You started first in the industry as an actress; do you still act?
No and yes. I still once in a while, mostly on part time basis, because of my busy schedule. In fact, I came into Nollywood first and foremost as an actress, that I won't deny.
I've done more than a dozen jobs as an actress in Nollywood. Another reason that led to my quitting acting was the proliferation. Every Tom, Dick and Harry now wants to act and be an over night star in Nollywood. Again, working behind the cameras has also helped me to be my real self and guard me from living the life of pretence.
Do you restrict yourself to only Nollywood jobs or you also do outside jobs?
No, I don't restrict myself to only Nollywood jobs; I do make up jobs for society weddings and even fashion jobs outside Nollywood. In fact, I just returned from Abuja, where I was invited to do a make-up job for a big babe. Outside engagements pay me more than those in Nollywood. In the last couple of months, I've been shuttling between Abuja and Lagos, plying my trade as a professional make-up artist on the social and corporate scenes. Above all, I love showbiz with a passion. I am also very affordable to those that can afford my services.
We would like to know more about your outfit, Sandito creations, and the things you do.
At Sandito creations, which is over five year old, we do many creative works for those within and outside Nollywood. We are basically into make up, costuming, styling and general makeup for individuals and corporate bodies.
Our dream is to be a reference point within and outside Nollywood in the areas of make up and creative works. I'm happy that our quality works are already speaking for us. Recently, we started training up-and-coming Nigerians who are interested in pursuing a career in makeup and other related works of art. Since I have been empowered, I also want to give back to the society, by empowering youths, who I expect to take over from me someday. If not for the lack of finance, I would have set up a make-up school since. But I know that by God's grace, I will accomplish that age-long dream of mine, someday, and when that happens, I will personally ensure that the academy operates free of charge or with just a token fee. It's not as if I don't do costume jobs, but I always try to run away from the stress associated with it. It's a pity that most people that claim to be costumiers in Nollywood, do not even know what a costume chart is all about.
We would like to know more about your background
I was born and christened Sandra Nchekwubechukwu Ejikeme here in Lagos. I'm a young girl from Obosi, in Anambra State, who is also still single and searching for the sincere guy.
Why are you still single and what kind of man would appeal to you?
All I need in my life is a sincere man, because I'm a very sincere person. He must also be God fearing. Most guys coming my way are only interested in my hips. The way my hips drive them crazy also scares me.
What happened to your last relationship?
He got married and left me heart broken. That notwithstanding, we are still very good friends. However, I won't deny the fact that he is a nice guy and very focused too.
Does the fact that he did not marry you gets you angry?
Initially, yes, but now, no. As I told you earlier, we are still the best of pals. And let me ask you, must all relationships lead to marriage? The fact that he did not marry me won't be the end of my life. No way, life goes on.
What if he comes back and proposes would you accept him back?
I can't answer that question now, but the truth is that I don't see him doing that, he loves his young family so much and I respect him for that. Mind you, you can't bring back the hand of clock. But I regret not being his wife, because he's a true gentleman and a ladies' man.
So, when do you intend getting married?
Very soon, though I'm still single and searching, but I'm very optimistic that I would be married soon. If the right guy comes today, I would gladly accept his offer.
You're a member of the Creative Designers Guild of Nigeria (CDGN), do you think the guild has done enough to support the careers of its members in Nollywood, especially the young ones?
Yeah! The guild under the vibrant leadership of Iyen Agbonifo-Obaseki is really doing a lot for its members. She has further helped to reposition the guild and is members. She also organizes regular trainings and workshops for us with foreign resource persons. Under her, CDGN, has really grown and done well for its members. Even mostly, she uses her money to run the guild.
What separates you from the other make up artists in Nollywood?
I don't like blowing my trumpet, but I think the invaluable experience gathered over the years as well as those who trained me on the job separates me from the pack. I was born to be a make-up artist. In fact, I'm a uniquemake up artist.
Another thing I want to do is going back to school to study Mass Communications when the time permits. It's a course I love so much.
Can anything make you quit Nollywood?
For now, nothing, and not even the melt-down. My passion for Nollywood and showbiz in general is something that I can't really explain.
Have you ever cried for love?
Yes, aside crying for love, it even led me to the point of wanting to commit suicide and smoking heavily, which I have never done all my life. All these happened when my guy left me and secretly got married. In fact, he was supposed to take me out on his wedding day.