SONGSTRESS OMALICHA BLAST HARRYSONG-YOU ARE NOT MY TYPE OF MAN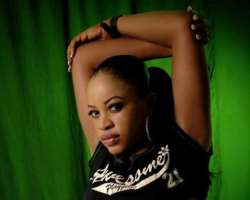 Sexy songstress Ego Omalisha has reacted to a recent reports that his label mate at Questionmark,Harrysong,confessed that both of them are having a love affair.
In a brief chat with Ego,the model turn singer,has this to say, I do not know if Harry is fantazing or talking out of his senses,but one thing is certain,I had crams in my stomach when I read that story….. Why? We inquired" Harrysong is no inch near my kind of man,he is a great producer and good label mate but I have never for once thought of dating him.
He has never asked me out,Infact if he should,I will bluntly tell him no,read my lips he doesn't stand a chance with me in the issue of love,because I cannot date his type.
If he actually said what I read,then he is a big liar
Ego is promoting a new single alcohol but it was not produced by Harrysong who was the producer of her first single,Omalisha.
Many are wondering if the story of their alleged affair has anything to do with Ego's refusal to produce with Harrysong? Not at all,a new guy called Patrick P produced my new single-Alcohol,Patrick is the same guy who produced Champions for General Pype and I love his vibe,that was why I decided to work with him.When I have a song that suits Harrysong I will return to him,but for now I am moving on with the promotion of my new work Alcohol
click the link below to go to...
HARRYSONG FINALLY OPENS UP ON ROMANCE WITH EGO+ SUSPICIOUS ROMANTIC MOVES TO SENATOR ITA GIWA.