9 MONTHS AFTER: 2011 BUDGET NOT IMPLEMENTED - OKONJO-IWEALA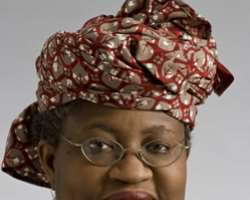 Okonjo-Iweala, who addressed newsmen in Abuja, stated that the N4.6 trillion budget has run into serious implementation problem, noting that before the budget was signed into law, it had to move from the National Assembly to the Presidency several times.
She explained that no one could really ascertain the level of implementation of the budget because there was no record on it. But she acknowledged that the 2012 Budget would be better packaged and so, would be different from the 2010 budget in terms of content and delivery.
She affirmed that the 2012 budget would be done in line with the transformation agenda of President Goodluck Jonathan. She assured that this time round, the presidency would co-orperate with the legislators and implementation and safe delivery of the budget would be faithfully carried out.
According to her, a good budget implementation is a priority of President Goodluck Jonathan's administration, adding that the 2012 budget and others would be implemented to the fullest.
Contrary to the era when so many projects were lumped into one budget, the 2012 Budget would only contain projects that can  be implemented which, she said, is in tandem with the medium term policy of the government.
To ensure a good implementation of 2012 budget, she said, a budget implementation team whose duty is to track all the projects contained in the budget had been put in place. She also announced that the Federal Government had commenced the publication of statutory allocations to the three tiers of government so that Nigerians can know how much is accrued to each tier of government within a period of time adding that the booklet on statutory allocations to the federal, states and local governments in the last 18 months was ready and would be given to the public this week.
Okonjo-Iweala used the occasion to denounce allegation of corruption  against her by an on-line publication saying that it is a  baseless fiction totally devoid of a semblance of truth. She emphatically said that she has no  skeleton in her cupboard and that is  one of the reasons she enjoys internationally reputation. She stated that  she has been thoroughly investigated and cleared by the most respected security agencies in the world.