ACTRESS CHINWE ISAAC STEPS OUT WITH HER LOVER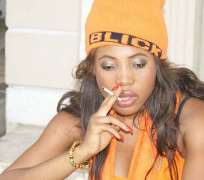 Light skinned Chinwe Isaac is now one of the controversial actresses in the Nigerian movie industry since her extremely sexy part where she stuffed her breasts into an actor's mouth in the movie titled "One Last Feeling".This is because a lot of people now see her as the second Tonto Dike because they both have a lot in common.
Aside that,they both act alike with almost the same facial look and completion.
This Imo State born actress is one of the most sought after by movie makers because of her daring attitude.
But despite her weird looks and life style,she has not been linked with any man unlike Tonto whom she does everything like.No one could placed on who she is dating.Though gists has it that she is in hot romance with one Enugu based producer but no one was sure of who the person is until Saturday,27th August 2011 when one of her colleagues,Mercy Johnson tied the knot with her heartthrob,Prince Odi in Lagos where Chinwe and Laclass Ozougwu stepped out together.
Even before the producer started introducing her as the love of his life, you need not to ask as both were all over each other.
The love birds we gathered met about 2 years ago at the Actors Guild of Nigeria Office in Surulere and ever since then,they have been so close to the extent that they visit each other regularly.
Chinwe we gathered always visit the coal city just to be with her man. Same with the guy whom we gathered cannot do without her.
According to people very close to them with the way things are going, their relationship could be altar bound because they have been stepping out together lately.
Chinwe,since the release of One Last Feeling, her profile has been on the rise. And she has featured in several other movies. She reportedly changed her car to a newer one recently.
While Laclas Ozougwu is a popular movie producer in the coal city of Enugu.He also features in some of the movies both the ones he produces and from other movie makers.
He is said to hail from Enugu State as well.