NIGERIAN-BORN ACTOR HAKEEM KAE-KAZIM GUEST OF HONOUR AT THE NOLLYWOOD FOUNDATION CONVENTION 2009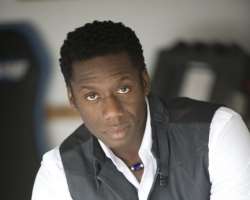 The Nigerian born actor Hakeem Kae-Kazim will be the guest of honor at the 4th Annual Nollywood Foundation Convention in Hollywood from June 19th - 21st 2009.
Hakeem received international recognition from his stand out role in the Oscar nominated "Hotel Rwanda". Since arriving in Los Angeles, his career has gone from strength to strength. In just 3 years, Hakeem has worked in worldwide hits like "Lost", "Pirates of The Caribbean", "Darfur" with Billy Zane, "X-Men Originals -Wolverine" and can currently be seen playing "Col. Ike Dubaku" in "24".

The Nollywood Foundation's president Professor Sylvester Ogbechie, PH.D, has revealed the theme for the Nollywood Foundation Convention 2009 to be Monetizing Nollywood Media: Making the Most of ExisistingContent.
Its goal is to foster initiatives on how best to market existing Nollywood media within the growing global market for media content.
The convention brings together Nollywood filmmakers, academics, and media industry specialists to discuss how to add value to existing Nollywood media and extend its capability for use as a global resource for educational content on Nigerian and African film