Profile - Lancelot Odumare Imasuen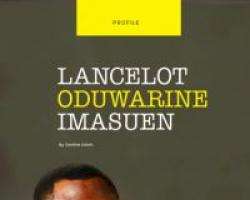 The prolific and prominent Lancelot Oduwarine Imasuen was born on the 27TH of July 1971, in the ancient city of Benin. His passion for arts started at a very tender age. At nine years old; he was among the children in the drama group in his church, he acted in several productions throughout his secondary school years and participated in the variety show and youth scene that was produced by the then Bendel Broadcasting Service .
Having started acting at a tender age, it did not take long for him to discover his talent. He joined the 'Earth Pot Culture', a theatre troupe based in Benin, which according to him was the most professional troupe in the old Bendel State.
In 1992, he left the Earth Pot Culture, on a mission to Port-Harcourt, where he studied and obtained the Professional Certificate in Theatre Arts.
Popularly called 'The Governor', he is one of Nigeria's most successful producers and directors, with more than 150 movies to his credit. Before he launched his career as a film maker, he worked with several media organizations like, Bendel Broadcasting Service-now Edo Broadcasting Service, Radio Nigeria, Lagos, and Nigerian Television Authority (NTA), Lagos. It was from the experiences he gathered at N.T.A, F.R.C.N. and Bendel Broadcasting Service (B.B.S.), that made it very easy for him to break into the Nigerian movie industry, coupled with his professional training as an actor; also, through his involvement with television series in Nigeria, he acquired a lot of training in the area of video camera photography and production.
This young chubby cheeked movie producer and director said he gets his inspiration from God; He may well be reckoned as the first Nollywood director to shoot a film in Hollywood, with a $200, 000 non-union budget film titled, 'Friendly Enemy'. He has also done quite a number of movies outside the country; some of them are Zero your mind - which was shot in Berlin, Saving the Crown, Home and Abroad, Seed of seduction, Windstorm and Adakhanva, which he did in his native language.
He directed his first movie, 'Twisted Fate' in 1995 and several others followed; they include Chaise, Apple, Ordained, Bond, Anointed, Aziba, Burden, and Issakabaa to mention a few. 'Issakabaa' was the first Nollywood movie to have four parts and a sequel to the part four, 'Please Come Back'; Issakabaa was the highest selling movie during that year.
Some of his other movies are Behind Closed Doors, Games Women Play, Games Men Play, Traumatized, Men Do Cry, Emotional Crack, Master Stroke, Official Romance, Django, Family Battle, The Mistress, Ekaete, The Pope Must Hear This, Private Sin and More
In 2001, he directed twenty-nine movies and twenty-six were block busters; this success story made him the first Nigerian movie director to have done so in Nigeria.
'The Governor', as he is fondly called by his admirers is the first Nigerian movie director to have screened his movie in Washington, DC. He screened "Behind Closed Door" in the US and it was well appreciated by a wider audience.
Lancelot is referred to as a star director in Nollywood because of his ability of getting the best out of any actor he works with on set and he has received numerous awards for his excellence in his profession.
He is happily married to Aimumwosa Igebor; they tied the knot in May 2007.