PROPERTY MERCHANT, SEGUN ALLI'S NEW DEAL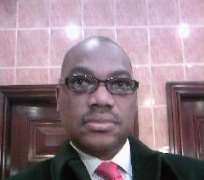 London big boy and easy going dude, Segun Allan Alli, publisher of the No 1, all colour all gloss property magazine known as XpressProperty is in town. This time, it's actually not the usual trips he used to make, the handsome property merchant whose offices in London , Nigeria and Ghana have become a beehive of activities, has just delved into exciting security blinds.
The Security Blinds according to Segun Alli "is to provide security, total peace of mind and aesthetic beauty for manufacturing companies, corporate organizations or individual house owners or tenants. It's aimed to protect the window and other openings from intruders, robbers and where required bomb blast." This latest security system which the soft-spoken businessman has come home to promote, we gathered, are made of extruded aluminium with steel bar through the middle.
The blinds popularly called as Secur is a British designed and patented product that provides the highest standard of security and gives protection without the feel of being caged-in and blends in to create a safer and more pleasant environment in which work and live. Secur looks and performs much like a conversational vertical blind. The blades which are attached to the fibbers can control sunlight, be easily opened for ventilation, and be turned to allow for complete privacy, sound insulation and thermal insulation, thus helping the carbon footprint of the building.
The international property expert, Segun Allan Alli said "Security Blinds when in position are unobtrusive. It's not all obvious that the blinds are security related, let alone at such a high level. The security blind conforms to health and safety regulations. This product is presently been used in many countries around the world with a list too long to name. In the UK where a number of organisations including government entities and a growing number of Police forces, British telecommunications, Network Rail, National Grid, RBS, HSBC, Barclays Bank have adopted this security measure for the protection o life and property, it's something we should take for consideration." Allan concluded.