'Ghanaian Movie Producers Are Copying Blindly'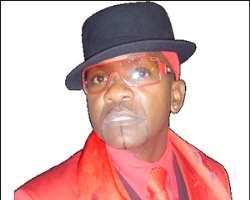 Actor Oumson Bah Omar De 1st has expressed concern about some petty mistakes in Ghanaian movies that he said are undermining the cultural integrity of Ghana.
According to Omar, splashing of money by rich men in movies is a Malian culture, imported into Nigerian movies which Ghanaian movie makers are copying blindly. Omar said even though he believes in African unity, there are some minute cultural values that one is identified with, and as such must not be ignored.
"We can portray the big cars and the big houses but there are some small cultural ideals that should not be forgotten. Have you seen somebody wearing smocks which used to be worn by the northerners and former President Rawlings and co?" he asked in an exclusive interview BEATWAVES.
He attributed the trend to the way some Nigerian directors have been exporting already-shot Nigerian stories into Ghana, with their Ghanaian counterparts jumping on such stories and re-shooting them with different cast. "They don't twist the stories to suit the Ghanaian culture".
Omar is also not happy with the way producers are not giving new movie stars the chance to sharpen their talents as they keep using the same old stars, saying movie enthusiast will in no time get fed up with such 'old' faces. "Nigerians take a big star and give him or her two or three scenes and also pick new faces and bring them up. Why can't we do that? Whenever you see Nadia, Jackie, Van Vicker or Majid in a movie, they are playing almost everything."
According to the actor who is also into fashion, Ghana's movie industry has a great future and players must sit up and refrain from the practice of reshooting Nigerian movies.
Omar got into acting in 2004 after Shirley Frimpong Manso of Sparrow Productions had given him a role in 'Different Shades of Blue'. Before then, Nigerian top director Ifeanyi Onyeabor once saw him and advised him to try acting. So during the premiering of 'Different Shades of Blue,' he approached Shirley and indicated his interest to be on her series. Later, Venus Films approached him to star in 'Crime To Christ' and since then, he hadn't looked back. He has featured in about 11 movies.
The sky, he said, is not the limit. "Currently, I have about 10 scripts to work on before the end of this year. I also get calls from Nigeria and my name is getting bigger and bigger. I am a big guy in Sierra Leone, where I come from. Ghanaian movies are controlling the market there."
The actor is not married but has a daughter and a son. He is a presenter who hosts a number of programmes on radio and TV.
By Francis Addo