Nkiru and her G-String panties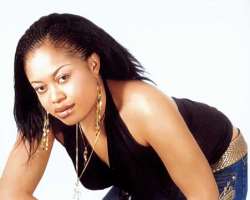 Na wah, sometimes one wonders if our stars really know what it means to be a star; whether they know it has a lot to do with how they appear in public. Maybe someone should teach them, especially Nkiru Sylvanus, some etiquettes on how to be a star, as the actress was seen trying to pull her trousers up to cover her G-String panties that were in public glare at the Murtala Mohammed International Airport.
The actress was on her way to Qatar and she had so many luggages that many who stood by wondered if she will ever come back. One even went ahead to ask if she was going to shoot a movie. But she said no, she was just taking a trip.
It was the load actually that made her try to pull up her trousers, which showed her panties when she bent to pick and open them for the immigration officers.
Hmm, hope she gets this bit of news and dresses better next time, if and when she returns to Nigeria