My Mother Warned Me Against Indecent Dressing-----Mosun Filani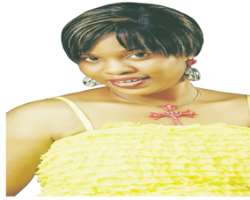 Amin Ayo was her first major movie appearance and it decided for Mosun Filani which way she should take. It has not been a bad decision.
"I started with some productions but the film, Amin Ayo brought out the actress in me. I did what I know how to do best, and ever since then, it has been splendid. The experience has been nothing short of wonderful," Mosun said.
After her secondary education in Ibadan before relocating to Abeokuta, where she had her National Certificate in Education (NCE) from the Federal College of Education, Mosun knew what she wanted and went for it.
"I have always loved to act and because I believe I have the talent and could do it very well, I decided to find my way and today God has rewarded me as the rest is history.
"The challenges of the movie industry are many but one thing that has helped me is my sheer love for what I do. See, if you passionately love what you do, you won't even see the challenges," Mosun said.
Mosun Filani became a prominent face in many of the Yoruba speaking movies in Nollywood few years back and recently she played the challenging role as Tracy in Funke Akindele's Jenifa.
The lady of style has over the last few years won the heart of many fans, who can't have enough of her acting prowess.
"I have acted in several other flicks before Jenifa but I just can't lie about the fact that Jenifa is a very good film. It was very funny working on the set and I acted naturally in the flick because it's all about ladies, girls talk and everyday occurrences among Nigerian ladies. The flick and set was awesome and I'm grateful to God for everything. Sincerely, I didn't feel any challenge whatsoever."
It is believed by some that many people and non professionals turn to acting as a form of refuge when all else has failed but end up being celebrated stars. What does she have to say about that?
"It's simply like you saying bankers or those that get jobs at banks are lazy set of people or that they sought refuge in banking. Acting is a celebrated profession, and, unknown to many, it's quite tedious too like many professions out there.
"Actors and actresses are like preachers because we mirror the society and make people learn from their surrounding, make them look inwards and understand the better way of life through our films, how can somebody now refer to us as been lazy?" Mosun inquired.
For Mosun, who believes in being truthful, open and respectful, being a producer has helped her understand the intricacies of the industry.
"I have always thought of how to improve the lot of people aspiring to make it big in the industry and I found out that I could give those people a chance
with my own productions. I intend to produce good films that the industry and country at large will benefit from. These are some of my ideals when producing movies.
"I have acted in several flicks and have produced some like Alaamu, which is already released, Iran Kefa and Iku Ewa, which would be released later this year.
"One interesting thing many do not understand is that in a few years, the industry would be on the international pedigree with other industries all around the world. This is simply because people are beginning to see why they should produce good movies that could go for awards internationally and we are improving on most of our productions daily," she said.
The beautiful actress stands tall as one of the most sought after as a result of her brilliance and beauty. With such potent combination, one is tempted to ask how has it been with men.
"It's been okay and fine," she said simply.
Many wonder how soon the wedding bells are expected to ring since she is still very much single and available.
"Marriage will come when it will come and when the time comes, I will let you know," was Mosun's terse response.
Those who know Mosun very well hinted that though her parents supported her dreams since she had been able to do well for herself up to the Federal College of Education, it was not without a strict warning.
"My parents actually supported my career since I started and they wished me well but I could remember that my mother strongly warned me against indecent dressing. She warned me to be cautious of what I put on in films. I don't get into outfits that I don't feel comfortable in and I don't go about begging for roles. My talent has paved way for me even when many didn't believe in me," she said.
Many actresses indulge in other forms of survival aside taking up challenging roles on locations and the dazzling and sultry damsel isn't left out.
"I sing. I'm also into buying and selling of clothes, bags, shoes and jewellery. This is to keep body and soul together but my priority is my acting career and I don't toy with it."
Mosun said she has a good relationship with most of her colleagues and whenever she is not on location, she stays indoors to enjoy her sleep.