'ROYAL ROOTS HAS RAISED THE BAR'- UFUOMA EJENOBOR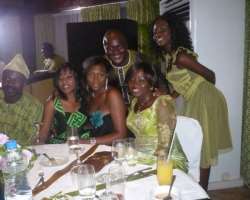 Royal roots production which has been in production since the early 1990s has put out another family drama from its stable titled 'My Mum and I'.
it is a situational comedy revolving around Lillian Wright (Ufuoma Ejenobor) and her daughter Joyce Wright (Aramide Okegbenro) who a mischievous 17 year old.
The Premier which was held on the 7th of June at the Club, Sheraton Hotel and Towers under the Chairmanship of the Director General of the Nigerian Film and Video censors' board, Mr Emeka Mba, saw the most celebrated artistes come witness it's launch with a green carpet reception.
It would be remembered that Royal roots also produced Edge of Paradise which was nominated for best Tv series at the Monte Carlo film Festival. Based on trust for their quality, they have also doubled as MNET's producers here in Nigeria.
The success can be attributed to the quality of equipments used ; HD 16.9, the story told costuming etc.
The executive producer confirmed that a lot of money was spent shooting the whole 52 episodes, but i was worth it.
The star cast and one of Nollywood's most promising, Ufuoma Ejenobor in her 'the making' interview says that the bar has been raised and a standard set by Royal roots. We must meet or surpass it. And she believes that after this phase, a better side to the film industry will emerge.