EXCLUSIVE: ACTING CAREER INI EDO AT STAKE?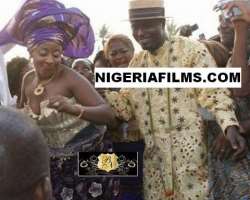 Mr and Mrs Ini Edo Ehiagwina
Rumour has it that Mr and Mrs Ehiagwina don't see eye to eye on the future of Mrs Ehiagwina in the Nigerian movie industry.
After a lavish wedding ceremony and an extended honeymoon in the USA, Nollywood darling Ini Edo was faced with her husband's stubborn opposition to see her return to her craft. The Worlds Apart beauty had commited her name to a couple of projects and cashed in some funds before getting married, which projects she would tackle upon her return to Nigeria.
Friends and relatives have chimed in to reason Philip Ehiagwina to let his wife resume her career and the widely popular actress is now reportedly back in Nigeria working extensively on damage control to salvage an otherwise spotless and prolific career.
Only time will tell if this incident will have an impact on the matrimonials of one of the most celebrated actresses in Nollywood.
EXCLUSIVE for http://nollywoodgists.com