I was reluctant to sing gospel –Tope Alabi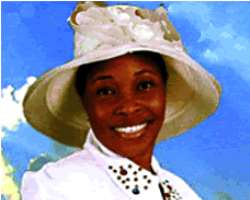 As a gospel singer of Yoruba extraction, Tope Alabi has earned herself the reputation of relaying relevant messages on Godliness and morality. The pretty and smart singer has won the hearts of many Christians home and abroad. In a recent chat with http://nollywoodgists.com, Alabi revealed the mystery behind her person and her music. She spoke on her radical Christian philosophy, as well as other issues which her fans would be interested in.
I started singing from the age of eight. Since then my parents have been receiving revelations that I would be minister of God but because we were Catholic, my parents thought I would become a reverend sister and they were praying along this line until when I got married and my denomination changed. I had to change to my husband's church, the Apostle church and since then, my music ministry began to boom.
How I started singing
I received the call of God myself. I heard God's voice and also dreamt about it. Although I haven't seen God face to face but each time I observe my quiet time, He used to tell me that He wants me to be a gospel musician. But I had wanted to be a secular artiste. I actually started as an actress.
Once an actress
When I was in the secondary school (Form 3), I joined the then Jacob Pappylolo and Aderupoko Drama group because I wanted to be a dramatist. Later, I got to know about the Ishola Ogunshola drama group and I joined. I started off with stage business such as carrying costumes. They later gave me a role in a 13-episode television serial titled Koko Arugbo and the director and producer were astonished at the way I played the role. From then on they started giving me roles to play. I also featured in a TV drama called B'olohun o pani in which and I played the role of a princess. In those days, there were no scripts as we have today. We depended on improvisation.
Getting into full gospel music
Actually before I got into full gospel music, I had released one secular album which was titled Ikoko dudu in 1992 from the stables of Segun Anuoluwapo films. But my first gospel album was Baba Iwo Lakepe. It was released in 1994 by the High Waves video mart in Lagos. These two were not popular. They were not popular because I had not started doing what God really asked me to do. I had not really submitted to Him as I was still nursing an ambition of being a secular artiste. But later I had to submit totally because I was convinced that He would not show me His mercy if I did not heed his call.
Inspiration
The second gospel album was entitled Ore ti o common was the only title album a man of God gave my work. I have not even started composing the songs when the man of God told me that God said I should give my life to him completely and do an album of His own with that title. He said God was ready to do me an uncommon favour. The man of God is Shittu Ajao and in 2001, I released the album. Also in 2003, I got another title through a revelation while I was in my sitting room, I just heard a powerful voice speaking to me. His presence was so overwhelming and He told me that my next album would be titled Certificate. When I asked him if there was anything spectacular about Certificate, He explained that people think that they can just come to him without a certificate of being born again Christian. He added that there are some Christians who pretend to be true Christians but have so many bad certificates that will disqualify them from getting to heaven.
Kokoro Igbala
At first I was confused and was not sure of what to do. I wondered how people would just listen to ordinary words without music. But God told me that when I sing His words to people they easily forget because of the pleasure the melody would give but when I speak to them with musical interludes, they would not forget.
I have been doing similar things whenever I was invited for church ministrations but I thought that it would be too much for me to do in an album. Then I went to my pastor and told him about the album and he said that I should go on with it. Then I became confident to do it because I know the pastor as a true man of God. His name is Prophet Ireti Ajanaku of the Christ Revival Victory Chapel in Ipaja area of Lagos.
One day when we got to the studio, another strange thing happened as I have not written anything down in words. I only jotted the old songs we used as interlude. But when I began to speak, the words started coming freely and I was particularly amazed at the contents of the words I was uttering.
Love of praise songs
That is not a divine instruction but I do that to show my appreciation for God's unmerited favour for me. I do sometimes wonder if I am really worth a person that could do an album and people would be buying it. For this special favour, I decided to praise God in my songs mostly. I did a lot of praises in my latest album Mori yanu. Also about three years ago, a woman called me and told me that God said He needed an album that would be full of worship and praise songs. I have not found time to do that yet but I know when I eventually do it, people would complain but I believe God is worth praising all the time.
God dances when I sing
Most times when I minister in churches, especially where the Holy Spirit dwells, I feel God Himself standing on his throne dancing while I worship. I feel His presence in a very big Babariga dancing in the Spirit. This made me have a strong conviction that we own him a lot of praises.
Mentors
They include the late Demos Deniran who was a gospel singer, the late Lakin Ladebo, another gospel singer who sang the lyrics that I used in Kokoro Igbala. He was an albino. Bola Are too is my mentor.
My husband and I
We met in a studio where he was an engineer. Then, I was producing sound tracks for home videos. We never thought we would be so close until when I finished my first gospel album. The album was rejected by my producer who ordered that I should look for one Soji Alabi to rework it. So I had to look for him and when I got him, he surprised me with his kindness. He simply said that I should pay a paltry sum for the work, on which I have spent about N170, 000.
Since then we started getting closer and I was calling him my right hand man and people began to see us together. Later he started proposing to me and initially I thought that he was not of my status but somehow I started having intimate feelings for him and was giving in. But we had it a bit rough because his people were at first against our relationship. They thought as a theatre lady, I would ruin his life but after some years into our marriage, they began to support us whole-heartedly. We were doing well and we have two children now.