Why I wear skimpy attires –RGK, Nigerian born Ghanaian based singer/dancer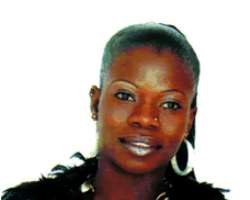 Currently in Nigeria to launch and promote her forthcoming debut album, Rose Gbenga Kadiri Edepo, better known as RGK, is doing all within her power to ensure that the work turns out a hit among music lovers, within and outside our shores.
RGK, who is from Edo State has been living and operating in the last three years from Ghana musically.
As a multi talented entertainer, RGK has consistently combined singing with dancing alongside a bit of acting, to the admiration of her fast growing fans base, who are scattered around the West African sub-region.
Already waxing stronger at 26, with her career, the fledging crooner also confessed that her ultimate goal is to make it big in the industry, as well as affect lives positively within and outside the continent with the lyrical content of her works.
And she equally hopes to achieve all these by being steadfast, focused and committed to her calling- music.
A pointer to the above dream is the fact that her singles and a few music videos are already ruling the Ghanaian airwaves and gradually penetrating the Nigerian music scene.
In her first ever chat with Daily Sun, the diminutive singer told us the story of her life, where and what she's aiming at and many more.
Why are you called RGK?
RGK is the initials of my first name as well as my surname, it means Rose Gbenga Kadiri Edepo, but most people, especially my teeming fans and friends usually think it's a nickname, no! I'm from Edo State and was born in Oyo State, but grew up in Abuja. I currently live in Ghana, from where I frequent Nigeria. I'm a musician, who studied music in Ghana, which was where I also began my professional music career. Ghana, is now like my second home, because I have done much musically in that country, part of which, was recording and shooting my first audio/video in that country.
The video is currently on air in both Ghana and Nigeria, since January this year. The launch comes up soon in both countries. Why the work has not been officially released in Nigeria is because we are still discussing with some marketers/distributors.
Professionally, when did you start singing?
Professionally, I started singing three years ago, and my love for music, which dates back to my childhood days, inspired my passion for not just music, but good music. I'm also a professional dancer; the passion for dancing also dates back to my childhood days too. I don't think I can live without music.
So, for how long have you been living and singing in Ghana and how are you coping with the environment?
I've been in Ghana doing music for almost three years now. The Ghana music scene is very okay and encouraging. The music industry over there has so many prospects for up-and-coming acts like us, which some of us are also utilizing.
We would like to know more about your album?
My album is a nine-tracker entitled: Life Is A Trick, jointly produced and packaged in Nigeria and Ghana. Like I said earlier, we are looking up to releasing it here in Nigeria, as soon as all arrangements are in place. We are also on locations trying to complete the remaining videos. Meanwhile, a few of the videos are on air and enjoying rave-reviews. But surprisingly, the work is enjoying more attention in Ghana than in Nigeria, though it went on air same day in both countries. Basically, I talk about love and real life experiences in my songs. I sing RnB/Hip Hop with a touch of Dance Hall.
Who are the people you'd say inspired your going into music?
Despite what she has been through in recent times, Whiney Houston remains my greatest idol. Other great musicians within and outside Nigeria have also inspired and influenced my going into music. My dream is to surpass all my role models, and that I'm very optimistic would happen soon.
How is the Ghanaian music industry accepting your singles that are already out?
The acceptance has been overwhelming, but the truth remains that the journey was not easy when I first started. It gives me joy when people call or stop me on the roads to tell me how they appreciate and love my music.
What is the core message you are trying to pass across in your album?
Like I said earlier, I'm out to preach the message of love, friendship, happiness and a world without war, where all the good things of life are in place. These are what you will be hearing in my album, when the album comes out globally. If there is peace and love, the world will be a better place for all of us to live in, irrespective of religion, creed, race or colour. Life is a trick because it goes up and down.
In my songs, I also try to paint pictures of true-life events and experiences for people to listen and learn from. In fact, in my album, I try to let people know that life is unpredictable.
So, who would you say is your favourite Nigerian musician?
I appreciate and admire so many of them, but P Square remains my best. I love their style of singing and dancing as well as their stagecraft and I seriously look forward to having a duet with them soon. Already, my management team is working towards that.
Aside singing and dancing, what else are you into?
I'm also an international stylist with many great styles to my credit. Sincerely, singing, dancing and being a stylist have taken me to several places, even outside the African continent. I started first as a stylist before veering into music. I have also danced for some notable musicians before deciding to go solo. I also train intending choreographers.
Which is better between the Nigerian and Ghanaian music scenes?
You can't take that away from us, Nigerian music scene is bigger and better than Ghana. But that does not mean that the Ghana music industry is not also vibrant and kicking.
Why are you not residing permanently in Ghana?
No big deal, just my choice,, Nigeria is my country and my parents are here, Ghana is just my operational base. However, I stay in Ghana more than I do here, because the basic necessities of life are working better in Ghana than Nigeria. I love Ghana but I can't reside there alone. I love the way I shuttle between both countries.
Did your parents support and encourage you when that you were just starting your career in the showbiz world?
From the very beginning, my darling parents have always supported me, especially my dad. As the second child from my mum, the support has always been there. In fact, my entire family, which is very large, has always supported my thriving music career and I'm also expecting all of them at the forthcoming launch in Nigeria, while the ones that can make it, will also be in Ghana for the launch there.
The date for both events will be made public soon; my team is already working towards that. I'm particularly happy that Nigerians are getting used to some of the tracks in my album, just like their Ghanaian counterparts.
You're single and fast rising, how are you coping with advances from the Nigerian and Ghanaian men?
Of course, they are all part of the showbizness. They call, admire and even toast you, but its left for you to read in between the lines and be careful in your dealings with them. Despite all these, I have a nice guy in my life; he's also in support of my career. In fact, he encouraged me financially and otherwise to go into showbiz professionally.
Are the two of you discussing marriage?
For now, I don't think so, and please do not ask me why. Its very personal and I would not want to discuss it in public.
Who is more romantic between Nigeria and Ghana men?
Sincerely, I don't know O! But one thing I'm very sure of is that Ghanaian men respect their women more than their Nigerian ones. They pamper their women a lot, but that does not mean that we don't have some equally good Nigerian men around. At least, at 26, I can boldly, say that I have tested both worlds. Really? Yes.
Is marriage on your mind?
Sure! But my career comes first for now. Though I'm still looking for Mr. Right.
How about the man in your life?
I don't want to talk about that, like I said earlier, it's a private issue. Let me tell you about my encounter with most men, they always say I look sexy.
Do you believe in love and has it been fair to you?
Yes, I believe in love, though my love life has not been stable. Please, do not ask me why, because I won't give you an answer.
What is your goal in the music industry?
My goal is to be great, respected and known globally. I want my music to heal troubled souls and bring happiness to faces. I also want warring parties to reconcile after listening to my songs. And the truth is that if I were not an entertainer today, I would have gone into trading. I'm also working towards having collabos with some Ghanaians acts. Lest I forget, I'm also a rising actress; I have acted in some Nigerian movies that were shot in Ghana.
Even some Ghana-based filmmakers have also approached me to be part of their films. I love acting, but music is my life.
Why do you like wearing skimpy attires?
I only wear skimpy outfits mostly on stage, because I love looking sexy on stage, even off the stage. Besides, I wear what suits and fits my physique. No apologies for how I dress on/off stage. The important thing is that my fans are down with my dress sense. As an artiste, you must carve a niche for yourself and that I have been doing with my style of dressing.
Are you a club freak?
Not really, I go to clubs because I'm an artiste, so I must go to such places in order to interact with my fans and mingle with those in the music world too.