BIMBO OSHIN BRINGS BAD LUCK TO DUDU HERITAGE-Family Reacts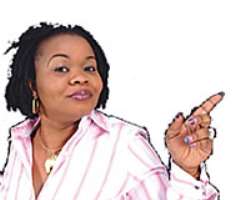 Bimbo Oshuin is not a new face in Nollywood most especially in Yoruba genre of the entertainment industry in Nigeria. Dudu Heritage is not a new name in the entertainment industry as well in Nigeria.
If names of top movie producers are to be listed, the international bizman, Ola Ibironke's name will come to reckoning as he has been able to churn out series of movies that beat others to it in terms of creativity, effects and good storylines.
If recent checks are to be considered, Dudu Heritage as Ola is fondly called needs some spiritual assistance. Informed sources informed this authority that this America returnee dude, Dudu has not been finding life easy ever since he got entangled martially with Bimbo Oshin, a beauty to behold in the movie industry who became his wife when she got pregnant in one of their movies they shot together.
Some family sources are protesting that Dudu's problem started when he married Bimbo Oshin and that ever since Ola wedded Bimbo, things have not be the same financially as he his fortune has now turned to misfortune due financial incapability.
"He's tried his hands in other lucrative deals but none has yielded good result. I noticed this dwindling fortune in Brother Ola when he started dating him and ever since, things seem to be so tough for him". Family source revealed.
Unconfirmed reports also has that Dudu deserves what he got from the hands of conmen in Nigeria who were said to have defrauded him to the tunes of several millions of naira.
A certain top Yoruba music and films marketer was indicted in the fraud and many others. While all these issues have become a subject of discussion amongst the family members, Ola himself, we learnt, is perplexed while things are not going on smoothly unlike when he first started. However, a closely guarded secret of how Ola himself swindled a woman who is said to be his better half in America of over $70, 000 before coming home, shall be brought to book when our findings are cleared. Keep a date.
By Bamidele Michael