No more nude pose-----Halima Abubakar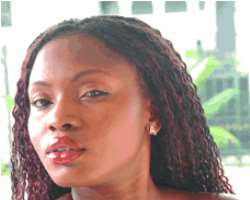 Halima Abubakar is a household name in the Nigeria movie industry. She has over 40 movies to her credit. The Igbera, Kogi State born actress is from a family of 6 and the 3rd of the family. She grew up in Kano State and attended Army Day Bukabu Secondary Education Bubabu barracks, Kano.
This delectable actress is a graduate of Sociology from Bayero University Kano.
Halima who ventured into the movie industry with Genevive left the industry to obtain a degree in Sociology at the University. Now she is back and stronger than ever. Some of the films she has featured in are "Before the rain", "Beautiful Beauty", "Area Mama", "Sin No More", "War In The Church", "Red Card", "Offence Relationship" and others. Halima Abubakar who say she is now wearing a new garment as an actress after her break in 2004 spoke to Saturday Sun on her acting career, challenges and how Genevive Nnaji inspired her in her acting career.
She also spoke on her ideal man, how she has being coping with stardom and the lesson she learn from her 2001 encounter with the press.
Others things she talked about are the rumour on her romance with Festus Ugochukwu, , how she was able to cope with those scandals and her painful experience about love life and how she lost her boyfriend during the darkest time of her life.
Acting career
I started acting at a tender age of 14. As a very young girl aspiring to become an actress I met a colleague of mine, Francis Duru in Kano in 1999, who eventually introduced me into the industry. He actually gave me some contacts to check on anytime to go auditioning anytime I'm in Lagos because I was based in Kano with my parents. It took me over 2 years to get a role in 2001 and I struggled in the industry to get a lead role in the movie titled "Gangster Paradise," produced by ifeanyi Benyi (Mr. Hollywood) though it wasn't my first movie but my first major role which i played as an actress. My first movie titled "Rejected" is yet to be released into the market up till date. I also featured in Alero (Soap Opera). I acted alongside Ngozi Ezeonu who played Alero but I was one of the female lead in the play. I was also in "Sweet and Sour" directed by Zeb Ejiro.
Inspiration
I think India movies inspired me to act. One of them is "Third Eyes," a popular soap opera in the 90s on television. I admired the cast on the programme. Another was "Maria the Slave Girl," a Mexican Soap Opera. in fact I watched mostly India movies because of background.
In movie industry Genevive Nnaji actually inspired me into acting. Anytime I watch the movies she featured I adore the way she interprets her roles. In fact I felt encouraged to act because I admired her acting style and the way she carries herself on set.
Movie that brought her to limelight
Though it took a very long time but I think "Area Mama", which was shot 2 years ago brought me to limelight. Even people loved the character I played in that movie as a gossip with a bitchy character because a lot of girls identify with such characters. But basically the movie that brought me to lime light is "Gangster Paradise" produced in 2001 but recently "Area Mama" gave me recognition after I left the industry and resumed.
Relationship with God
Obviously waking up every morning is enough to appreciate him. In fact it has being great. I wasn't that close to God, but today He is the owner of my life and I must say that the fear of God is dwelling sufficiently in my life.
The year 2008 wasn't easy for me as a person because a lot happened in my life, though I wouldn't love to talk about them because they remain my past. I'm a very positive person.
Regrets
I had a lot of regrets in life. I think one of them is mixing up with some friends I'm not supposed to call my friends. It is unbelievable that some people you call friends could go to any length to ruin your life. They are not worth to be called your friends. Though it's a great lesson and I wouldn't want to make another mistake especially now that I have so much to achieve as an actress. I don't want anyone to destroy my life. Though I have forgiven them but I'm well at alert because of , as well prayerful.
Coping with stardom
Stardom comes and goes. I think in life nothing is permanent, so you don't have to allow it get into your head, because it could vanish at any time. I think it depends on how you manage It, though I have seen people who are not humble and eventually they collapsed. If 2face Idibia could carry himself with so much humility with all his success as an artiste, I think he is naturally humble and I respect him for what he possess. In fact he is the most humble person I have ever met in my life. So I think humility should be the key word to enable people have easy access to you.
Embarrassment
Yes, I have received embarrassments especially from girls. I feel its just childishness. Even some parents also embarrass you when they meet you in public especially while driving. All they do is to harass you by shouting on top of their voices probably because they see you playing a character they don't like on set. But it's just a movie. I think they should be more educated to react in such manner.
Coping with advances
Men are always admiring me. I think they should be tired by now though I like them because they are always trying their luck. I think its nice to be admired because as a woman when nobody admires your look it means there is a problem. I appreciate that so I try to tell them off politely. How many people would you go out with among them? So the best is to be polite so that they would not be rude.
Love life
Yes! I have a boyfriend. A girl like me should have someone who is close to her heart though I don't wish to talk about him. I think he should talk about me wherever he is if he is proud of me. Why should the woman be the one spreading it.
Ideal man
My ideal man is someone with a great sense of humor, intelligent and hardworking. Above all he should have the fear of God. Though I love tall men but I don't think God will give you a perfect man
Painful love life experience
I had a painful love experience when someone I was dating lied to me that he was not married. Later I found out he was married and the wife started calling, threaten me. She even threaten to go to the press and I had to call off the relationship because it a painful thing to date a married man and I understood what she felt. So I had to respect her marriage by quitting, though I don't know why he lied to me. We courted for 3 years. Indeed it was a terrible experience.
What she would like to change about her
My temper and my ability to be too nice to people because they have taught me a lot of lessons in my old age that it don't pay to be extremely nice but nice to people. I have being hurt in the part so I wouldn't like to be too accommodating again to keep my career going and life in general.
Other means of livelihood
Besides acting I'm also a businesswoman. I try to make myself productive in other area not just standing in front of a camera. I sell gifts items, jewelries, gold and ladies wears.
Halima Abubakar beyond the set
I used to be extremely nice I'm just nice though stubborn but I'm trying to control that aspect of me. I'm a fun loving girl. I don't go out for clubbing but for exercise or shopping at shoprite or I go to Silverbird to watch movies. I'm a funky Muslim and very traditional. I always communicate with my God.
Tattoo
No, I don't have tattoo all over my body. I have only 3 tattoos and they signify different period of my life. The one on my hand is the new Halima Abubakar, (star, thunder and lighten) and it is a recent tattoo. The one on my breast is the rose, lily flower and purity. Then on the back of my waist is an Indian thing, which signify the moon and eyes of an environment in a society. I don't just wear tattoo for fashion, it signify something in my life.
Marriage
When the time is ripe I will get married. I don't want to jump into it. I still have some years before I join the 3 big 0. I still have time to study my partner for a lasting marriage like my parents who have been married for over 32 years. I look up to achieving such union because some of us now are impatient intolerant in their marriages. They prefer divorce.
Closest friend and why
Tonto Dike is my closest friend because I haven't seen any body like her. We are two crazy old ladies. She inspires me while I also inspire her. We talk to each other especially when we are going in the wrong directions. I adore her because she accept criticism. Friendship is all about listening and togetherness. In fact she is a virtuous woman with a heart of gold. I have friends but she is the best friend I ever had.
Modeling scandal in 2001
I modeled in a magazine in 2001. As a model there is no limitation to be a professional, but due to our level of civilization it was celebrated then that I posed nude. I don't think I will model in such manner again because I'm more matured now.
It was childishness and an adolescent stage of my life and I wouldn't wish to face any of such challenges again. The challenges I would love to face now is marital life and my acting career. Though a lot of people are still doing it but I wouldn't because acting is my first love. It really delayed my career for a long time and it happened when I was about leaving to complete my studies at Bayero University Kano. So I left the industry in 2004 for 4 years to get an education and then come back in 2007 when I was ready and matured to face challenges.
Effect of the scandal
Producers and directors refused to call me for roles because of the scandals. But now I'm a new Halima Abubakar wearing a different garment though some of them are still skeptical of giving me roles. Well it wasn't a nude picture of me but it was celebrated as if I committed murder. Its my past and I don't wish to remember all I went through then. But I thank God for all His mercies.
Islam and nudity
Based on my religion it is a taboo to expose any part of your body. It's a sin to even expose your hair not to talk of wearing jeans. It's crazy in Lagos because you can get away with any kind of dressing, not in the north. In fact I'm very grateful that people have given me another chance. I wouldn't want to mess it up.
Parents reaction
It wasn't an easy journey. I was so depressed because of the death of my boyfriend so I had no option than to go to my parents to make amends. Though they were furious based on our religious believe, but they forgave me as my parents.
I'm very glad and honored for this great opportunity given to me by those who are supporting me in my career. I wouldn't disappoint them again. And for those who are consistently giving me jobs, God will continue to bless them because there is no amount of thanks that would gratify the amount of happiness they had instilled in my life.
Rumour about relationship with Festus Ugochukwu
I don't know anybody by that name. Though I have being in the Enugu for a couple of times for shooting and we have used a lot of people's homes even hotels, I can't remember meeting anybody called Festus Ugochukwu a hotelier. As for the Rav 4 Jeep, I bought it with my money and not the said Ugochukwu. It's not a new thing because a lot of girls buy bigger cars. I don't know why mine should come from a man. It's my 5th car. I'm surprise they are celebrating the Rav 4 jeep which I bought with my hard earn money. No man has ever bought a car for me, but please if there is any man who wants to buy me one I would gladly accept it with prayers.