I enjoy kissing on stage — Tobechi Onyeka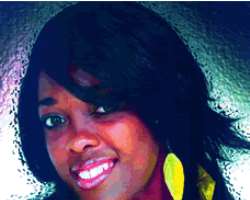 Ardent viewers of Super Story can easily recognise the face of Tobechi Onyeka. She played the role of Mercy in the recently concluded Super Story, a Wale Adenuga production. In the said soap opera, she displayed her quest for luxury and affluence, thereby betraying her best friend who accepted her and changed her class by marrying her father.
In doing this, she destroyed the joy, love and peace that existed in the family. However, the real Tobechi is not what you saw on screen. She is naturally nice and kindhearted. A graduate of Cell Biology from the University of Lagos, Tobechi grew up in a family of six.
The dark complexioned girl was cornered by http://nollywoodgists.com recently and she spoke on her acting career and life style.
Acting career
I give kudos to my church, St Dominic Catholic Church, where young people are trained in the field of entertainment. I was picked as small as I was then for my ability in dancing. Later, I went into stage acting in the same church. It was the way people were appreciating my performances then that built my passion for acting and entertainment.
Love roles
It is nothing to me when I act on stage. Be it romance or anything, I am not what I act. The only thing is that I try to make my acting look real. Nevertheless, I will not go extra mile like being nude. Kissing on stage means nothing to me as long as the person has a fresh breath. Kissing a man while acting does not make me feel bad unless he does not use toothpaste. I cannot stand a man that has a mouth odour but every other thing is okay by me.
First experience on set
It was not easy at all. In the entertainment industry, nothing is easy. Even if you are taking the least or what we call the minor character, it is still not easy. I was fidgeting. At a point I doubted myself. I lost the confidence I had in myself. I was shy, stammered, feared and so on. Thank God I was taught not to give up, and today I am glad I persisted.
Most challenging role
The most challenging role I have taken so far was "Mercy" in Super Story entitled More than a friend. It was not easy but I promised myself I was not going to disappoint Wale Adenuga that gave me the role. When I graduated, I went to Wale and told him I would like to take a part in their productions hoping it was going to be Super Story. Though he recognized me immediately, he promised to call but for three months, no call came from him. One fateful day, he called and when I got there after the auditioning, it was Papa Ajasco. I was disappointed but I didn't let it show. I took the role and not long after that, he called for Super Story.
Rewarding profession
Acting is a noble profession and very rewarding but the only truth is that it requires patience. Any one that comes into the entertainment industry should not expect to make it in her first outing. Rome was not built in a day. It's just like bank job where one does not boast until she meets up with the required target. Initially, you may make many mistakes but if you are the learning type and persevering too, you will get to the top provided you do not quit.
Inspiration
As I said earlier, it was my little performances, which my church and even those outside my church appreciated that built up my passion for it. I told myself that if I could do well as young as I was, then I can as well do better now that I am grown up. After these thoughts I started working towards it. I started getting roles in soap operas even when I was still in school but I noticed that I was being distracted and I suspended it till I graduated.
Role model
To be frank, my role models are Joke Sylva and Kate Henshaw. I want to be like them and even do better. I want to be known, respected and appreciated as my role models. Whenever I am watching their movies or programmes, I see in me the future Nollywood star.
Works
I don't want to talk about my other works; I want to talk about my role in Super Story because it gave me the most exposure. In More Than A Friend, I played the role of "Mercy", a girl from a poor background whose parents were not finding it easy to pay her school fees. She was rejected by the campus high class girls because they felt she did not measure up. One day favour located her as a girl from a wealthy home who was assisting her friends in her own way felt for her and they became friends. Through her friend her status changed.
The family of the girl accepted and took her to be part of them. It is a family where love, joy and peace existed between father and children, husband and wife. Mercy in her quest for fame and luxury, and through the advice her greedy father gave her, lured the father of her friend into having a relationship with her. She ended up marrying the father of her best friend but as we know, the wicked will never go unpunished. Nemesis caught up with her and she ended her life. The simple lesson in that role is that one should not bite the hand that feeds him/her.
Aside acting
I always tell my friends that if acting in any way misbehaves, there must be a way out. Now I am into computer programming. I am thinking of going into Information Technology fully. No matter how great I become in the entertainment industry, I will still engage myself in other things.
How she gets roles
Everyone has a way of getting what she wants. I won't argue on the issue that most actresses sleep with directors to get roles. For me, I go for auditioning even till now. The only advantage I have is that I am now known so it makes it easier for me to get roles. By the grace of God, I have other ones coming up very soon.
Relationship
Well, I am into a relationship. I have a lover and I hope to settle with him when the time is ripe.
Coping with male admirers
It is not a difficult task so I manage them with ease. The only thing is that I don't know those that are coming as friends and those that are coming for a toast. All the same, I have my ways of dealing with them.
Dislike
I hate disappointment and rejection. I also hate people that are not sincere and trustworthy.
Challenges
It has not been easy. I have a lot to manage, trying not to offend anyone. I give glory to God that now my so-called enemies are turning out to be my friends.
Regrets
I thank God for who I am, what I am and where I am. So far I don't have regrets and I don't think I will ever have. When I look at my parents and younger ones, I feel good. When I wake up in the morning, I see reasons to laugh. Now and forever, I hope not to have regrets.
Memorable days
Career wise, my most memorable day was the day I got the role in Super Story entitled More Than A Friend. Every other thing I had I always looked forward to having them. I ask and expect them. I work towards getting what I want but the role came as a shock. For now, this stands as my most memorable day.
Advice
The journey of a thousand miles starts a day. Do not expect to make it in a day. Just be focused and look at where you are going. I came into acting in 2001 but in 2009, I played a role that announced me. If you check the gap, you will agree with me that whoever that wants to be great should not be in haste. There is need to be patient and tolerant. There where times that I gave up but I persisted and today, I am happy. Keep keeping on and you will get to the top.