Empress Njamah's new project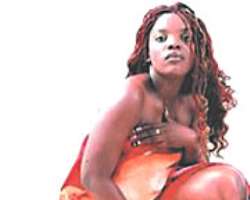 I have told these stubborn busy bodies to let me be. I just cannot imagine why somebody cannot stay without poke-nosing into the business of other people. Come I'll like to know, what is the business of an agbero with overload? What is the business of ngbekes with what and how my sister, Empress Njamah chooses to do with her time off the stage?
The will not just allow the poor, sorry rich girl to rest.
Before now, tales were agog that she incurred the wrath of some big boys in the industry and pronto, words were passed around baring her face from any new flick. Her lack of appearances on sets for sometimes nearly confirmed this horrible tale until she sneaked back into movies. With her return, tongues still wagged that she had to settle her way back to business. How she did that, olofofos could not expatiate.
And when it appeared as if some respite had finally come the way of the actress, busy bodies introduced another angle to the unsolicited popularization of the babe. They paired her with budding crooner, Timaya, in a sizzling romance tale that soon spread like wildfire. Though Empress is yet to deny the pairing, she is also cautious in confirming it. I am sure her caution stem from the fact that she has been a victim of matchmakers' abracadabra once or twice in the past, so she has learnt to thread jejely.
And when it appeared that the arrangement is looking promising, the babe, I learnt, decided to move faster. Lo and behold, talebearers changed music and accused her of putting her career at stake by pursuing the Timaya project as if her life depends on it. They even said her not getting roles in the industry is due to the fact that she wanders all over the country, trailing the guy to shows and engagement at the detriment of her career. Haba! Of course, Empress denied all these rumours and I joined her in denying. But I'll add an advice. My sister, if na true, see caution oh because this kind thing don happen before oh.