ACTRESS RUKY SANDAS FAN CRIES OUT:''RUKY STOP IT!''.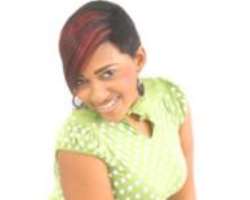 This is not the first memo from her fans but this one sounded more urgent.a Ruky Sanda fan called me up to beg me to appeal to her to stop the outrageously short things she wears as clothes.
hear''does she think beauty lies in walking around half naked or what?does she think she is presenting herself as good role model?does she think she even has legs hot enough to be exposed?please beg her to stop this low class behaviour and dress up for her own good,whoever is decieving her or letting her out of the house in those half naked attires is wicked,stella please beg her''.
truth is,i am tired of sending ruky memo on this her dress sense,may i suggest what the forefathers said to her?they say''a good product needs no hard sale''.now to my question,does true beauty lie in walking around half naked?
ok,lets do it like this because ruky will not stop dressing this way.the next time anyone sees her in this halfnaked mode,please scream out for fashion police in your loudest voice.thank you.