On Set Joke Silva Divorces All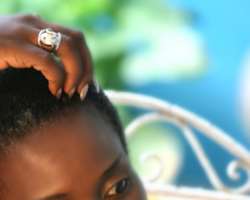 Joke Silva no doubt is a brand in the movie industry, a veteran practitioner, who has seen a lot in the sector. To many, she is simply a woman of great charisma. Chinyere Okoye met her recently
She was born in 1961 in Lagos and one of the five children of Chief Emmanuel Afolabi Silva, she hails from Isale-Eko, while her mother Dr. Marianne Abimbola Silva, hailed from Abeokuta, though she didn't stay with them until she was five years old. So religious and disciplined her parents gave her and siblings the best training. "I went to one of the best schools in Lagos, Holy Child College. They were always there for us, tutored and trained us on the path of greatness."
Joke Silva, a graduate of English from the University of Lagos, has been in the entertainment industry for almost three decades. She studied drama at the prestigious Weber Douglas Academy of Dramatic Arts in London.
The international actress of repute has featured in several stage productions both at home and abroad and several movies. Some of her works include international and several Nigerian films—"-Secret laughter of Women, 30days, Amazing Grace, Sisters Love, Letters to a Stranger, Widows Cult, Keeping Faith, White Waters".
Joke has also written and directed to critical acclaimed films. They include Digging for Gold, Jonah, The Drummer Boy and Footprints.
Silva is a recipient of several awards, including the EMOTAN Award by African Independent Television and the SOLIDRA Award. She is also a member of the think tank for the Blair Commission for Africa, a trustee of advocacy for women and children, a board member and a grief counsellor for AART of Life Foundation.
There is no doubt that Joke brings a wealth of experience to the character she portrays in 30 Days. Dupe Alade is the president's most powerful minister and she has been charged with the task of untangling the mystery behind the killing of government officials. Ageless and beautiful, Joke also talks about her work, family and other issues.
CAREER AND MARRIAGE
As a child, I never wanted to go into acting or rather being an actress; I wanted to be a doctor like my mother. At a point I also wanted to be a lawyer, because my aunty was a lawyer, l wasn't too sure of what l wanted to do as a young girl, but I felt any of these professions would be worth my while. As it were, l never knew my parents knew what was best for me and God had His plans for me in life.
They took me to Holy Girls College where most of our great icons in the profession went, due to the premium placed on extra-moral classes with theatre as one of their major areas. At a point, acting became part of me. l later proceeded to England to study A level programme. After the course in England, I came home to practice acting as a profession and equally understand the nitty-gritty of the profession.
Though, I started acting right from secondary school at the Holy Girl College, but I was called into the profession while in England studying in 1981, when one of my teachers told me that I am good at acting if I can consider it as a career I prayed about it and God gave me the direction to go ahead. The first English film I performed in was in 1990, Mind Bending, an incredible story, while the first Yoruba film was Owurolojo in 1993.
In my first year in the industry, l was working round the clock; working on the radio early in the morning, in the afternoon in the theatre, night, and l will be on the television, working on a full-time. Working with people like Jide Ogunbade, Kunle Bamtefa, on television, Francisca Emmanuel at the national theatre, they were all a source of encouragement for me as a starter in the industry.
After gaining some experience, I proceeded to the United Kingdom for a Diploma in Theatre Arts at the Douglas Academy of Dramatic Arts. There I was schooling and equally doing some part time radio broadcast with the BBC. Due to excitement and ecstasy I got working here in Nigeria before I left, I came back home, to continue to explore my profession and at that time, I started a chat show series and several others.
Though what has kept the brand going is that my two mentors guided my path that my career took, I mean Lola Fani-Kayode and Olu Jacobs inspired my performance and acting. They guided my career in such that the brand will become synonymous with quality and integrity. It has been like that by the grace of God for the past years.
I married in 1985 to an internationally acclaimed actor, Mr. Olu Jacob and we have two children, one is presently studying in the United States of America, while the younger one is also in University...
Again, it has been God all the way. If God is in charge of a career, it will soar like eagle. God works in mysterious ways. That's why I cannot but give him the glory.

ACTING FROM REAL SELF AND FANS
Acting has become part of me as a result of several training, so I now call it my profession. It is what I have been trained to do and once am on set, television, movie or theatre, I play my role divorcing my needs from the role every other and face my profession.
Appearing in movies is one of the things that represent us abroad much more than our ambassadors can, and is not very fair that everything is screwed towards violence, rituals and sex. Which is so untrue, I will like to see a bit more balance.
NOLLYWOOD INTERNATIONAL STANDARD
Joke Silva and other like-minded individuals are working hard at winning the stage crowd back. Lovers of stage drama were virtually lost during the military era, which coincidentally was the same period we had the upsurge of Nollywood.
So, people just felt they could sit at home and still enjoy drama. But with the gradual revival going on, we have discovered that there's huge fellowship out there that are eager to watch quality productions. The staging of Vagina Monologue is a testimony to that. We were surprised at the turnout.

CHALLENGES IN THE INDUSTRY
Part of my challenges are that there is a lot of work but there is a lot of distribution network problem. Distribution network is a problem because piracy is a huge challenge and these are what we need government to take care of, as they recently introduced National Film & Video Censors Board (NFVCB) and Lagos State Film & Video Censors Board (LSFVCB) to work together to provide a level play ground for the industry.
Again when you are at peace with God, you will be fulfilled because no matter the challenges you face in life, one knows that there is someone who's capable of taking care of your challenges, hence you don't need to have any undue worry. God has promised He will meet my needs and He has always been faithful to His promise. I am what I am today by God's grace. Although there are still mountains to climb, but I know I will surely get there.
GROWTH AND GOVERNMENT SUPPORT
I think what is fantastic about the movie industry in Nigeria is that we all know that there is a market for our products worldwide. After we have gotten the market, we need to improve on the quality, technical know-how and the distribution system.
To make this valid presently, the industry is suffering from the distribution system of products as there are so many of our works being pirated and that are killing our industry. Our marketers are cheating us, because so many of them make money from our films but often times tell us the reverse.
NOLLYWOOD AND AMAA
Yes there are chances for Nollywood in the next Africa Movie Academy Award (AMAA) and I agree with what Tunde Kilani said in the last AMAA that with so many entrances from different parts of Africa and they did a very good show of themselves in the last AMAA. There is implementing of competition in the industry which is fantastic and we are running the risk of becoming parochial to what is happening in other countries. Kenya was a wonderful surprise.