A thin line between sexy and trashy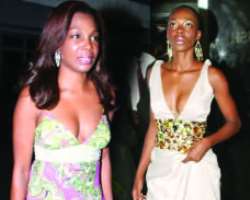 Fashion is really a science, yes it involves going through certain formulas to get your desired results, and these results may turn out to be good. But when classy, street or high fashion doesn't happen? Catastrophe occurs as the line between sexy and trashy can be so easily crossed.
Many women confuse trashy with sexy. There is nothing wrong in accentuating your most flattering attributes, just knowing when you are going over the top.
Many don't know the difference between a party outfit and daytime one. Baring of enormous amounts of cleavage and upper highs is excessively trashy. Dressing suitably is definetly a social skill that has to be learnt, dress sexy but respectfully. A woman does not have to bare all to get the right of attention. Take Note; Trashy does not equal sexy. Women can be sexy but in a classier way.
Surprisingly trashiness can be related to all spheres of fashion. There is trashy make-up, when loud and vibrant colours are been used in excess. There is also trashy jewellery, which occurs with people with more money than taste. for them the bigger the jewellery piece is, the better. In old English such individuals were described as been vulgar.
Tips for dressing sexy
1.Wear the right under-garments.
2.Avoid forcing yourself into every style; certain styles will never look good on you.
3.Avoid outfits that show too much flesh.
4.Avoid wearing under-sized garments; you look much better wearing your perfect size.
5. If your wardrobe is designed to flaunt your bust-line, alternatively wear a camisole underneath a low-cut garment. A hint of lace is ultra –feminine and sexy.