Ini Edo speaks!My love, My husband, his ex-wife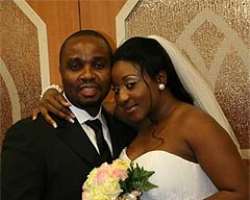 ni Edo...Our marriage is a celebration of love
Of all the stars in Nollywood, top actress Ini Edo, has had the most scrutiny by the media. Ever since she burst onto the crowded Nollywood scene about 6 years ago, and quickly distinguished herself as a great talent - with beauty and alluringly sexy attributes to boot, she has been the object of the media's total fascination.
The fascination however, appears to have been one-dimensional - her enormous sex appeal appears to be the media's eternal fascination. Instead of stories written about her great acting skills, the media have spawned all manner of sleaze, scandals, and salacious liaisons about her.
She has been painted and defined as a sex-crazed young woman who has been an object of fascination by the rich and the powerful - a desire she seemed to have encouraged. She has been linked with every imaginable rich person, and stories of her sexual shenanigans dot the pages of all major newspapers and magazines all over Africa.
In this exclusive interview with Ekerete Udoh of The Diasporan Star, a tabloid newspaper based in the United States of America, Ini speaks on a number of controversial issues revolving around her love life, past scandals, her heartthrob and his ex-wife, Ruth Okoro.

Earlier this year, a national newspaper, (not Saturday Vanguard) was forced to write a retraction and apologize to Ini Edo, after they wrote a front-page story stating that the actress was arrested in London on drug charges. The story had turned out not to be true. Few months ago, she got married to her sweetheart-Philips Ehigiwina, and the media's reaction to the romance and eventual marriage has been decidedly negative. Many in the media are openly speculating that the union will not last -that the marriage is one of convenience than one rooted in true love.
This year again, her husband's ex-wife - Ruth Okoro, went on a media campaign, lambasting the actress as a husband-snatching, calculating gold-digger who was cold enough to snatch her husband from her while she was bedridden recuperating from cancer.
To some people, the constant barrage of negative stories would have taken a toll, but Ini Edo, seemed less perturbed by all these stories, taking refuge in her faith which she described as the "rock of my life - the foundation that has grounded me."
One reason why the media have written so much on her private life is her penchant for not granting interviews to journalists "if you don't talk to us, we would talk about you" was the way a colleague from Africa responded when I asked why so much negative stories have been written about the actress.
Early this year, the actress was in New York to receive an award from the African-American Women in Cinema, and before her arrival, I received a call from her husband -Houston-Texas based car dealer and businessman-Philips Ehigiwina that his wife would love to grant The Diasporan Star an interview.
And so, a day before the award, Ini Edo, her husband, and I sat down and between rounds of pepper soup, Hennessey and hot bowl of rice at Festac Grill - the Brooklyn eatery for this exclusive interview.
"As you may probably know, I do not grant interviews, but I have finally decided to break my silence and talk to your newspaper, which by the way is a wonderful piece of great journalism you are doing here. I have decided to finally talk and let the world know who the real Ini Edo is, and not the object that the media have painted which I do not even recognize." For two hours, Ini Edo spoke passionately about all the scandals that have been associated with her.
In spite of the fact that she has compartmentalized many of the hurtful stories, you could feel the pain in her voice when she spoke about some of those stories. There was no scandal or negative stories about her that she was not willing to comment on. At the end of the interview, I came away with the conclusion that Ini Edo has been hugely misunderstood. She is brilliant, articulate, thoroughly grounded, focused and has a girl-next-door demeanor.
Scandalous Stories and Me
"I am usually at a loss when I read stories about my sexual relationships with phantom figures and personalities. It is really astonishing when people could just manufacture stories, give them legs and let them fly when they know the stories are totally and absolutely false. What kind of journalism is that? Take the case of the story that one of the reputable Nigerian newspapers published about me in April this year: that I was caught in London, and detained on drugs charges. How reckless can one get? I was not arrested.
I was not even questioned by the police, and none of what they wrote was true. I remember my publicist calling me in London to say I was on the front page of the newspaper. And the story was that I was arrested for drugs. I was so stunned that I felt like crying. There I was in London-free and enjoying my vacation, yet the media said I was detained.
The story was a big hit on the internet and I was devastated. I do not even smoke cigarettes, neither would I recognize cocaine or heroine if I saw one, and here I was being tainted unfairly as a drug carrier. The newspaper was forced to write a retraction and apologized profusely for publishing an untrue story. That is one instance of what I have been going through in the hands of the media.
Their relationship with me has been thoroughly adversarial, and I sometimes ask myself, 'why me?' What have I done to deserve this treatment? I have not done anything that is out of the ordinary yet. I am being defined in a manner that is totally out of sync with who and what I am."
Sexual Shenanigans
"It is perfectly legitimate for men to have designs and desires on stars. I was recently voted by the public as Nollywood's Sexiest Actress. So it comes with the territory that men would want to date you. The question then becomes: do you fall prey to every man that comes your way? The answer is absolute "no". I was raised well by my parents and I have always been a one-man lady. All the sexual shenanigans that the media have associated me with are all false.
The problem with our journalists is that if they saw you at a coffee shop with a man - just any man, even if that man is your cousin or brother, they would automatically assume that that is your new lover, and without asking questions, would rush and publish that you were seen at a coffee shop with a new lover.
I have lost count of the number of such innocent outings with family members, friends that they media misconstrued that I was dating. What the media failed to understand was that I had not allowed stardom and celebrity to becloud my values. What they did not realize was that I wanted to be married, and start my family, and that the notion that I was some kind of a sexually crazed hormone raging young woman, was totally false and a bad reading of who I am.
Have I had friends in the past? Of course, just like any other young and single woman out there. I had friends. Did that make me an out-of control sexual goddess? Absolutely not! It has been very painful for me when I read all the sleaze that are written about me, stuff that are patently false. I have, however, come to accept it as part of the price you pay for stardom. I just wished they could do a little investigation before they rush to publish."
My Husband, Our Affair Our Marriage and His Ex-wife
One story that has pained me a lot is the notion that I snatched Philips from his ex-wife - Ruth Okoro, while she was recuperating from cancer treatment. Nothing could be further from the truth. The ex-wife said I was callous and mean-spirited to have done so. Initially, I had wanted to ignore what she had said about me. But I would like to use this medium to state that I did not take Philips from Ruth Okoro.
When Philips came into my life, he was a single man, with no marital encumbrances. Philips was divorced from Ruth by the time we began seeing each other. So, I do not understand what she is talking about.
I remember asking Philips to come clean with me, and tell me everything that had happened between him 'and his ex-wife. I demanded to know if he was still married to her, and Philips said "no" and produced a divorce paper to back up his claim. It was after that that we began dating.
There is no way I would have dated him if he was still married to Ruth. My values would have been in conflict with that. There is no way I would have dated and agreed to marry Philips if I knew that he had abandoned his wife at the hospital while she was recuperating from cancer treatment.
That would have been a huge turn-off. The Philips that I met and got married to is a perfect family man - a dependable, God-fearing man who treasures his family. Philips was there for his ex-wife throughout her hospitalization, and she knows it. Let me also add here as a piece of advice to our fellow women: If you had a home, one that you truly love and appreciate, you should treat that home as a prized possession. You should treat your husband well.
There is nothing to be gained if you maltreat your husband, and make his life miserable. Men do not like that. I hope Ruth understands and appreciate the depth of what I am saying here. That will be my response to everything she has said about me - all the negative things she has written and caused to be written about me."
How I Met My Husband
Philips and I met during one of his many visits to Nigeria, and right there and then, I realized I had met the man of my dreams. I am sure you ladies understand what I am talking about here - when that special person who excites that special passion in you comes along, you begin to do things that are out of range - you begin to be consumed by his thoughts - you begin to send text messages, call him all the time and just feel so much in love. That was the way I felt when Philips came along. I knew that he was the man for me.
I realized that we had the same out look on life, that I could start a sentence and he would finish it for me, and would convey the same exact thoughts I had in mind. When I took him to see my parents, they wholeheartedly accepted him, even though he is not from my part of the world -that is a testament to Philips' humanity that is very, very transparent.
Philips and I have the same ideology, and I am excited and happy to be his wife. Our attraction is mutual, our focus is interlocked and what a great family man he is! Philips calls my family even more regularly than myself. He would just call to find out how they are doing. He has such good heart and kind spirit that is just a beauty to behold.
That is the man I met and agreed to marry. All other depictions are borne out of malice and hate, and we do not even want to dignify their hate with a response.
But I am being forced to do so, now.
Those who say our marriage is one of convenience, and that it would not last, I have news for them: "While you traffic in hate and malice, we will continue to celebrate our love, our marriage and the happiness that God has endowed us with. You can continue to revel in negativity. We revel in positive glow, and that is what defines us. God brought us together, and God will keep us together.
The machinations of the naysayers will not stand, because that is not our portion. Our marriage is a celebration of love borne out of deep sense of mutual attachment, trust and abiding companionship."