200,000 people gather for Cannes amidst global recession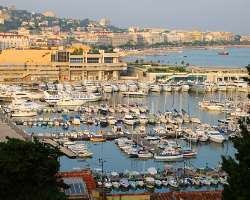 For the third year, Nigeria has maintained a pavilion at the Cannes Film Festival which opens today with 3D animation comedy, Up. The 62nd Cannes Film Festival, which will run till May 24 2009, will have over 200, 000 stakeholders in attendance
Without a film to screen for the third time, Nigeria is heading to the world largest and most glamorous film fiesta as the second largest film producer after India.
Perhaps, Up, no matter how entertaining, will not remove the disturbing global economic crunch from the minds of big players and film merchants from Africa and other continents. Already, the global economic woes have started throwing destabilising punches on the overall preparations for the events.
Tale-tale signs have emerged that certain extravagant features of the film fiesta will vanish following the recession. Studios have started cutting back; Vanity Fair's exclusive party has been cancelled; luxury yachts moored at the picturesque harbour remain elusive and even movie executives have started sounding a note of caution on the eve of the world's biggest film festival.
This year's mood is blamed on slowing DVD sales and depressed advertising coupled with disappearance of a big studio presence, a situation that has forced Hollywood to launch its summer blockbusters elsewhere.
But, no matter how the world economy presently bites, it is certain that the 3D animated Up, will commence12 days of exciting activities including screenings, interviews, red carpets and late-night revelry in the palm-lined resort, which attracts many of the most glamorous and powerful figures in the flim industry.
Nothing, of course, will affect the major events for the festival especially the main competition and coveted Palme d'Or for best picture. Already, 20 films are lined up in the main competition and vying for Palme d'Or.
Brad Pitt is expected in Cannes with Quentin Tarantino's World War Two drama Inglourious Basterds. The competition also includes Pedro Almodovar's Broken Embraces starring Penelope Cruz; Ken Loach's Looking for Eric featuring former French soccer star, Eric Cantona and Lars von Trier's horror, Antichrist.
Jane Campion, who clinched the Palme d'Or with The Piano in 1993, is also hoping to win it again with Bright Star, a film based on the romance between 19th century poet, John Keats and Fanny Brawne.
Other works coming to the Cannes include Ang Lee's Taking Woodstock about the rock festival and Lou Ye's Spring Fever, made in defiance of a five-year ban from film making imposed by China for his previous movie, Summer Palace.
Also, hundreds more movies are struggling for recognition outside the main competition, many of them on the market which runs throughout the festival and reinforces Cannes' importance in the world of cinema.
The 62nd Cannes Film Festival presents a French two-time winner of the best actress, Isabelle Huppert, as 2009 president of the jury panel that will select the winner of the Palme d'Or prize for the best feature film and Grand Prix for the film that shows the most originality and research spirit.