My career, parts of my body I love — Amanda Ebeye, actress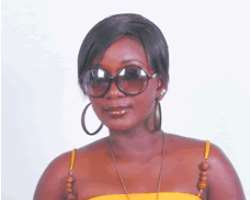 As the movie industry gets populated by the day with productions getting better, more faces are emerging, thus adding colour and freshness to Nollywood.
Of all the beautiful actresses recently discovered, one stands shoulder high among her peers. She is proficient, professional and smooth.
Yes, Amanda Ebeye is the Nollywood star on the block. A graduate of International Studies and Diplomacy from the prestigious Benson Idahosa University, Benin, she is gradually warming her way into the hearts of movie buffs with her impressive performance in movies and soap operas.
Ever since she featured in her maiden movie, Weeping Tiger, the ebony damsel from Agbor, in Delta State, has not looked back. She has delved into movies and has dumped the trade she studied.
Amanda told http://nollywoodgists.com that she has no plans to practice what she read in school. She also revealed what she cherishes most in her body.
Family background and venture into movie industry
I was born into a family of five. My father is a biomedical engineer, while my mother is a designer, who deals in wedding gowns. I was into modelling and I had some friends who were actresses. I went with them for auditions and I got paid for my first role, which is Weeping Tiger. From then, I did a couple of jobs and I have not looked back.
I have featured in some movies and soap operas, which included Last Weeding, which is yet to be released in Nigeria; Keep My Love and Tomorrow Must Wait. Some of the movies are not out yet, but they have working titles. I also feature in soaps, like Super Story, More Than A Friend, The Patriot, Blast from the Past, Everyday People, City Sisters, Clinic Matters, Images, El Dorado. I am particularly crazy about Emem Isong's movie, which is not yet out. It has no working title at the moment. It paraded stars, like Genevieve and Ghanaian stars, among others.
I played the role of Ugochi. Ugochi, a lady, worked with a women boss, who happens to be Genevieve. She was like the middle person between the boss and outsiders. It is very interesting. It would make waves when released.
Inspiration into acting
My mum has influenced me greatly. She has always believed in me. She saw the talent and passion in me and told me I can do it. She asked me to take a chance. I thank God that I did. After my tertiary education, I came to Lagos to join Nollywood fully. The like of Genevieve Nnaji, Bimbo Akintola and Richard Mofe Damijo are among the few I aspire to be like in the industry. In all, my mother inspired me.
My mother is my role model. She is a complete person. She is everything I want to be. She has a career and family. She is a strong woman. I want to be strong, determined, confident and passionate, like her and I want to go as far as she has.
Strength
I am a strong willed and determined person. It is a strong point because no matter how difficult a thing is or no matter how people try to put me down, I don't go down. My weakest point is that I hate to fail. It's a problem. When I am failing in a venture I break down completely.
Being a Diplomat
I don't have any plans of practising what I read in school. Even if I am not acting. I want to be a producer or in the entertainment sector. If I wasn't an actress I would be working with CNN as a popular correspondent. I will go to war regions and get information. Maybe I will be like Christina Armanpour. In Nigeria, journalism is good, but I love what I watch on CNN.
Most challenging role
Without mincing word, it is The Patriot. I played the role of a NAFDAC official. It was challenging because it was different. It is not the usual girl role thing. I have to be mature and I did what I don't usually do. This time I wasn't advised; rather I was the one giving advice. I was encouraging people. That was the major thing because it is utterly different.
Boyfriend
I am not hooked at the moment, but I have friends. Right now, I don't have anybody basically. I am pursuing my career right now and I cannot do both at the same time. I cannot be there for a man fully and also be there for my career. I need to get to a level in my career before getting hooked. But I can date an actor.
Cherished part of the body
I cherish all parts of my body, but the part I cherish most is my eyes. I just have very good compliments about my eyes. Not that I take extra care of my eyes but that is just what I cherish most.
Lesbianism
A fellow woman has never asked me out, but I feel people can do whatever they want to do because it is their life. If they choose to date a fellow woman, good. It is their life, but just know that in everything you do, you have a reward or repercussion.
Future plan
I hope to be at the top of my game. I hope to be somewhere, where everybody can say she deserves to be there because she knows what she is doing, where people would say that one is really doing something good. I want what I do to impact on my life and on my children. I want a world where everybody will recognise Amanda Ebeye for good.
Last AMAA
People say that the last AMAA wasn't impressive for Nollywood, but I feel the award is an African thing and not a Nigerian thing. It is just like the Oscars; it cuts across everybody, like in the western world. I feel AMAA is trying to bring African countries together. That could perhaps explain why they gave other African countries a chance to claim awards as well. I think it was good. Nollywood got what it deserved and other African countries got what they deserved as well.
Way forward
I think Nollywood should continue doing its best. It should lay more emphasis on production. Many people have a lot to say about production, but I feel we are getting there. If government can sponsor our movies, it would be good. I feel we are getting there.
Books
I love horror and romance novels. I read a lot of Steven Kings, Andrew Brown, Sidney Sheldon novels. I read anything I lay my hands on. I also read Art of War, Art of Seduction, 48 Laws of Power and so many others. I relax by reading books and watching series.
Diet
I take a lot of water. I eat light but I take fruits a lot. However, my favourite food is rice and plantain.