15 Movie Pirates Sent To Jail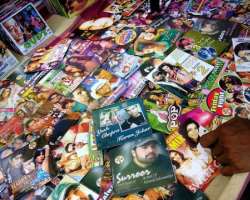 The Lagos State Films and Video Censors Board in collaboration with its national body in Abuja have arrested and sent 15 film pirates to jail.
In a raid conducted by the censors' board on Thursday, last week, 15 persons hawking unlicensed and pirated films were arrested and later sent to jail by the Special Offences Court [KAI Unit].
The persons arrested include Sunday Okonu, John Nweke, John Ugbona, Onyebuchi Ezevi, Odiagwu Alex, Bolaji Saka, Charles Agbata, Ibitayo Akinyelure and Emeka Okafor.
Others are Ikechukwu Nweke, Joel Nde, Emmanuel Dennis, Eze Moses, Onive John and Theophilus Ibekwe.
The accused persons are however expected to pay the sum of N10, 000 as bail. Their offence, according to the Executive Secretary of the Lagos State Films and Video Censors Board, Otunba Dapo Awobotu, is contrary to section one of the street trading and illegal markets [prohibition law] cap section 12 law of Lagos State, 2003 punishable under section 10 of the law.
He said "this is just a mock raid, but I can assure you that we will not relent on bringing others to book. Besides, a tougher penalty awaits them."
Also speaking with NollywoodReel, the Senior Adviser to the Director-General, National Film and Video Censors Board, Obiora Chukwumba, noted that the manhunt will soon be extended to other parts of the state, particularly Alaba Market.
He said: "It is going to be a nationwide effort, but I'm glad to say that we are starting from Lagos State."
The Lagos State Film and Video Censors Board, in its bid to lift the face of the movie industry, has introduced life insurance scheme for the crew of every movie shot in the metropolis.