When okoro man jam gbati woman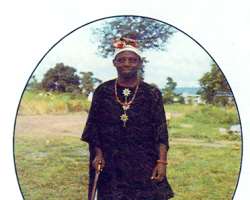 MY broad, my sista, na wa o. Di only way I fit describe am na like where Heartland dey play with Rangers. Efry person wan surrender. Haba! But come o, una see woman, I fear dem no bi small. And I don talk am bifor say na dem make Sonny Okosun sing "Which way Nigeria?" Woman sabi pretend, even if you dey kill am. Don worry, I dey come with torey. Na one Nigeria, n aim we dey for dis contri, but some people dey for dis contri wey bi say if no bi with dem contri village people, dem nop fit do kini lai lai. For such people now, if you go dey talk to dem, na your time you just dey wasted. Show no go dey for you. But dem forget say nothing pass experiment. Without no experiment, improvement no go dey san san. If farmer no do experiment for im far, w no go fit get better crop grow. If doctor no do experiment, e no go fit sabi whether melecine dey sure gonoria or not. And if Rangers no play with Heartland, dem no go sa bi who strong pass. Abi my people?
Na im bi di power wey experiment get for almost anything for edis world. If Calabar man no try Benin woman, e no go fit compare im omoge dem with Benin omoge dem. Or if Umuosu man no try Abeokuta woman, e go hard for am to sabi who sweet pass Akirika! So, therefore, n aim make I dey preach one Nigeria day by day through by my activity dem. For instance example, if I do kini with three ngbati woman dem in none week, I must to make sure say I balance am with three omo Okoro dem. And after dat week, na Maiduguri Waka put eye go. Wahali talahi, some people dey for dis we obodo Nigeria wey bi say dem never taste di fruit of forbid of anoda person, if no bi dem contri village people dem own. Dem plenty wey no fit tell you wetin cross pollination bi and I swear, dem dey miss plenty plenty thing dem. Alhaji he-got talk say if no bi say e follow some people travel comot, e no for sabi say some people dey for dis world wey bi say if dem wan talk, dem go carry dem go carry dem mouth go up so. And to support wetin Alhaji talk, Oyinbo people talk say experience, n aim senior professor.
Anyway sha, bifor proverb go carry me trowey fiam, make I kuku nack una di torey wey I get today. I no say some human pikin wen dem on hear di torey finish, go say Waka don come again. But di torey happen true true and e never reach four dy since wey e happen. Nafor Dopemu o, my people, n aim e happen. And di two people wey dey for di inside orf dis torey so, na Papa Ebere and Iya Risi, dem live for di same yard. Di two both of dem na family people and wentin I no fit talk bi how two of dem managed come fall inside love. Dey listen o. Papa Ebere na one kind Mighty Igor so and people wey live for di same yard with am talk say di man strong no bi small. Bicos, dem talk sy if night reach and e begin do kini with im wife so, dem sy e bi like civil war di man dey fight. Dem say almost efry human pikin wey dey for dem yard go hear Mama Ebere im voice as e dey shout, sake of say Papa Ebere wan kill am. According by im neighbor dem, dem say e remain small make di bed wey dem sleep on top begin shout like Mama Ebere. And I dey suspect say e must to be wetin make Iya Risi begin like di man. Again, e fit bi say Baba Risi no sabi do am well well. Bicos, some woman dem dey for dis contri wey bi say if dem wan do kini, dem go like make di wetin call reach di cockpit of dem kini. So, therefore, dem say if you see as Iya Risi dey take look Papa Ebere eh, you go no say di woman need am urgdently. Bu as e bi woman now, shame no let am talk to di man and as for Papa Ebere now, di fear of magun no let am do lovingitis with Iya Risi. You go as okoro man concern.
But sha, e no tay bifor di two both of dem come sabi say wetin dey hungry woman wety get belle, dey hungry di person wey gif am di belle also. Small time now dem begin greet demself fine fine and from there now, torey don finish bi dat. My broad, my sista, na here di torey begin bi dat. I hear say dem need demsef so tay for di first day wey dem jam, bifor Papa Ebere go comot im instrument of magic, Iya Risi don open well well. Lagos Benin express road! And like person wey im wife born new pikin and e nevdere do for long time, di man enter patapata. Who born dog?
I hear say di kin reggae music wey Iya Risi take im mouth sing dat day eh, say Bob Marley no sing reach like dat untele nyamutu. And dem say di kin ikwokirikwo music wey Papa Ebere take im waste dance dat day so, say even Dr. Sir Warrior bi mumu for where di man dey. Come hegar wetin dey from Iya Risi mouth dey comot as Papa Ebere dey do di national assignment on top. Tufiakwa. Olorun oba o. I no no say na so okoro people sabi do dis thing reach o. Ah ah Baba Ebere, no look my face at all at all, just teach me lesson. Use dose muscle wey dey your body so finish me, I no wan live again. I beg no quick tire o bicos I no go fit tire with operson like you. Forget about my husband e no go fit do anything o jare. I fit divorce am bicos of you. Make una wait o, di torey never finish. Wakabout, di son of man, I still dey nack my torey dey go. So, as Iya Risi dey talk dis thing now, papa Ebere too don dey talk im own also. With in wetin call inside di military zone of Iya Risi in kini and im two hand dem pressing di woman im boys quarter, Papa Ebere dey shout. O Chineke me e, so dis woman, na so you set reach. I no no say ngbati woman dem sabi perform well well like dis.