WC Rated X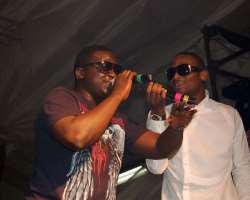 Wande Coal's M2M is probably the most anticipated Naija debut album in recent times.
The 'black-as-coal' singer first came into the limelight when he lent his vocals to fellow Mo' Hit-er D'banj in 'Move Your Body'. Listeners began to pay attention to his falsetto on 'Booty Call'.
Two years and numerous collaborations later, 'Mushin 2 Mo' Hits' has dropped and fans will not be disappointed; at least not with his vocal capacity.
If you think the tracks appear familiar, you are not alone. Track 7 'Now It's All Gone' has a beat eerily similar to Ikechukwu's 'Shoobeedoo'; while track 10 'That's Wot's Up' will remind you of Shank's collaboration with Akon.
Besides these, and the less than stellar rap performances from D'Prince and K-Switch, the tracks on the album are easy to listen to. M2M is an album that will be comfortable on the dance floor or the car stereo. The up-tempo beats are cheerful even on the rather melancholy 'Se Na Like This'.
Key tracks are 'Kiss Your Hands' featuring Ikechukwu, 'Confused' and personal favourite 'Ololufe'.
Certain to be mega-hits are 'Taboo' and 'Who Born the Maga'. 'Bumper to Bumper' and 'Bananas' are already receiving massive airplay.
It is safe to say that this album received the D'banj treatment' - that is, the tracks are pumped with hot dance beats leaving little room for creative expression. Nonetheless, this is a healthy debut album.
Wande Coal (alarmingly referred to as WC on the album) has a bright career ahead of him. Definitely looking forward to the live performances!