Chris Okotie on Soul-E: Prediction comes true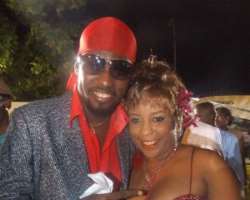 The young hiphop talent who rocked Nigeria in 2006/2007 with his Soul E baba dey hit, has for some time disapeared from the lime-light. This happened not long after he parted ways with his wife of less than two years, Queen Ureh. Before the two were united, there had been calls from different quarters discouraging the union. The major reason being that the wife Quee Ureh is 15 year older than Soul E. both being members of the Household of God Church. They were also warned by their pastor, Chris Okotie, who was also a musician like Soul E.
Just as if the future was visible to those who discouraged the marriage, like a pack of poorly arranged cards, the union broke up some months ago amidst blames and counter blame. The young musician who last year released a failed double album, is back in town. When cornered and reminded of his pastor's warning about the marriage, he did not hesitate to throw a below the belt punch at his former pastor. 'One thing about me is that, I don't go after what people think is right, I go after what I believe in. The same peron you are talking about also broke up from a marriage. I don't know why people are taking my own case so personal. He said in a chat.
Today Queen Ureh no longer lives with Soul E, and has quit the job as Soul E's manager after returning to her former job as a banker.