I Once Had A Crush On Ramsey Nouah -Grace Amah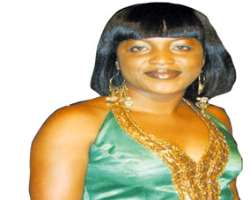 Interesting and sultry are words, which aptly describe some Nigerian movie actresses. For Grace Amah, one can justifiably add pretty and petite.
This fresh graduate of the University of Lagos, who studied creative arts, regularly exhibits her creativity and beauty on the screen.
Thus, when Klieglights sought her consent for a chat, it was with conviction that she remains one of the recurring decimals in the movie sector though she has been in the background for a while as a result of an auto accident that left her bedridden for several weeks.
"I was actually out of circulation for several weeks as a result of an accident, which happened sometime in January 2009 in Surulere. A guy left the main road to hit me at the pedestrian side of the road and it left me bedridden for days.
"It was so bad that I got stitches on my legs and was at home for several weeks. My parents and siblings had to help me out with virtually everything I wanted to do because I couldn't move about.
But that is over now. I am back for good and ready to hit locations. The most painful part of the accident was that it made me miss my convocation party," Grace said.
Reacting to the speculation that she had to undergo skin exfoliation process to help her remove the scars, which the accident had left, the soft-spoken actress said: "Skin exfoliation? I don't know anything about that oh. At least, you can see the scars yourself. The only and necessary thing that I had to undergo was a surgery to stitch the torn part of the leg and that's all. I don't know anything about that."
Grace, a native of Ebunwana-Etta, Ebonyi State, who was born and raised in Lagos was alleged to have been in a love tango with a dude and ready for marriage at a point. But her incursion into the make-believe world has greatly impacted her life with several men wanting to have a piece of her even with the indication that she is currently in a serious relationship.
"I am in a relationship at the moment and I wouldn't want to mess it up. Male admirers and folks would come but I always endeavour to make them my friends and draw the line because I can't chase them away as they make a larger percentage of my fans. Those who insist on having a relationship or nothing else are turned off immediately.
"I cope with men like everyone does. I have a blossoming relationship at the moment and he is a good looking cum God fearing personality, so, what more can I be looking for?" She quipped.
Expectedly, her time at the university was not without drama.
"Schooling was fun, I actually had a mixed treatment in school. It was sort of nice and bad for me on the campus and this is because some people just resented me because they felt I was a popular actress and would definitely be a snub,"
She recalled further her days on the campus of the University of Lagos before her graduation early this year.
"I also had an issue of being treated like an outcast by many students and lecturers. Things other people did and got away with weren't easy for me to do. They felt as an actress I had to suffer for everything. The lecturers made sure I submitted my assignments in person and all that, so it wasn't a bed of roses at all.
"I had a normal and scandal-free life in school because what was uppermost in my mind was to come out in flying colours and so studying hard was the key. I was determined and careful not to have any relationship while on campus because I already had one before getting into school. Well, I had male friends and it all ended as being just friends. And in all, I came out in flying colours," she said.
Actresses and actors being the humans they are, have crushes on a colleague or someone outside the industry at one point or the other. Grace isn't an exception and for her, Ramsey Nouah was the man.
"Well, would I call it a crush? Anyway, I know that before I got into Nollywood, I had always liked Ramsey Nouah a lot. You know I had always enjoyed and loved the way he acts but all that ended the day I acted alongside him.
"You know, it was like everything just vanished maybe because I felt I was acting alongside Ramsey on the same set and that was it. So, I might not totally refer to it as a crush," she stated.
For a lady, who has been able to cut across the two genres of movie practitioners in Nigeria-English and Yoruba speaking sectors-before taking a back seat, it might be a little bit difficult getting back to shape as new faces have sprung within a short period of time.
"I have got a lot of productions to launch myself back into both the Yoruba and English movie sector. My school and accident actually took me away from the industry but now, I am back and fit to go and anytime from now I would be hitting locations.
"Well, I might also shoot some of my own films but I would also be working with producers and colleagues and doing some other things. But in all, I would be coming out strong very soon," she said.
"I won't want to believe that my beauty alone or the faces or looks have kept me in Nollywood, I would also say that the talent is a part of me that has worked. I've got what it takes to be an actress in terms of talent and it's just that I have also got looks too. So, they all work together.
"I wouldn't know if my pretty face had helped me secure a role at one point or the other but I do know that I might have been called up for a role maybe because they need a pretty face and a talented one at that, who would be able to interpret the role of the pretty face. I think my pretty face is part of the gift that I have and which has been working for me," Grace said on the insinuations that her pretty face was what paved the way for her in Nollywood.
The African Movie Academy Awards (AMAA), has since its debut, become one of the most sought-after awards for many Nollywood stars and even for practitioners on the African continent.
Thus, emotions must have run through Grace going on stage to present an award without getting a plaque or even a nomination.
"I was happy for the winners and I said to myself that my reason for not being there is simply because of another important part of my life-my education. But I was determined and said to myself that I would be getting one of that awards very soon."