Real Nigerian men go for fat ladies— Ajila Dolapo (Miss Big and Beautiful)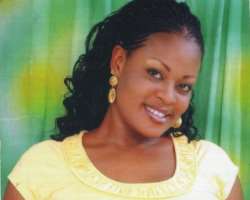 There was a time women were measured by their size but not these days where slim girls are getting all the attentions. But Ajila Dolapo who won the Miss Big and Beautiful Pageant, being plus size is what makes a woman. She is not your ordinary fat girl who cries because of remarks made about her size her case is unique because her size singled her out of the crowd and she was crowned a Queen in Nigeria. Even though she was not born big she is proud of herself as a plus size lady as she claims that her size shows that she is a real African lady. She shares her views and opinion with RITA IGHODALO.
You are the reigning Big and Beautiful Queen, did it ever cross your mind that your size will one day
win you a crown?
Not really, I have come to learn that you can be whoever you want to be in life. Your size has nothing to do with your achievement in life but in this case my size actually brought me this far and I am grateful to God. Although it did not occur to me that my size will bring me a crown I knew I will make it in life.
What gave you the confidence to enter for the competition?
My mum was the back bone of everything. When she heard of the pageant she encouraged me to go for it. The enthusiasm was not there at first from my side but my mum kept pushing me and telling me that I could just be the Queen and that I should give it a try and with time I became so interested and I went for it.
This is the second edition were you aware of the first one?
Yes this is the second edition, I was aware of the first one but I did not participate in it because I did not get the right information. There was no keen interest as at then and the guy that told me about it did not give me the details that I needed and he did not sound really serious.
Can you tell us about yourself and your educational background?
My name is Ajila Dolapo, I am the last child of seven children. Growing up was fun and I am grateful to God for the kind of family that I come from, my parents have been very supportive and my siblings have been awesome. I had my primary education in Andrao International School then moved to Command Children's School Bonny Camp then to Federal Government Girls College Sagamu and I finished my secondary education at Queen's College Lagos and currently I am a graduate of University of Benin and I studied Banking and Finance.
Let us go back to your younger days, when did the plus size syndrome start?
I was not this big when I was growing up, it started in my secondary school days around 1997/1998.
Has there been an embarrassing moment?
Not really, I just hear funny comment about my size. I am walking and I hear nasty comment like 'oh God see how big you are, oversize'.
What is your greatest challenge being a plus size?
Most cases I see what I like in a shop but I can't buy them because of the nature of my body buying clothes have not really been so difficult the only thing that seem to be difficult to buy are my shoes because I have big feet.
What are your body statistics?
Bust 45, hips 51, waist 38, height 5ft 9", size 18.
What does your boyfriend think of your size?
He loves it and he is very cool about it.
What is your best sex position?
That is kind of personal and I do not want to talk about it.
Nigerian men seem to be afraid of the plus size ladies, are such men missing out something?
Most definitely, plus size ladies are the real African ladies they have everything that a real African should have. Check out the front and the back any man that does not appreciate a plus size lady is not an African in fact, he is not a Nigerian at that; real Nigerian men go for fat ladies.
What do you look out for in a man?
Good manners, I will not go about all the God fearing things that we say but he should have good manners, neat feet and fingers.
What do you have to say to the organizers of the pageant?
I will like to use this medium to thank the organizers of this pageant most especially the chairman Comrade Austin Enehizena and the Staff at Ge- Swill Resources and J- Site Media. I want to thank God for giving them the vision because it has been all about the western culture and the slim shady girls contesting for beauty queens but this program has helped to encourage and build up the confidence of the plus size ladies to love, appreciate and believe in ourselves.
What is the best thing that someone has said about your size?
My size is a blessing to mankind.
So what is the worst thing that someone has told you about your size?
What is this? This is too much load you are carrying.
What do you think is the greatest misconception that people have about plus size ladies?
The misconception that people have about plus size ladies is that we are not physically fit, we are unhealthy that is wrong because there are things that we can do better than the slim-shaddy people it is not all the slim ones out there that are healthy big people are healthy too.
How do you work out?
I work out once in a blue moon, I have only gone to the gym once and I go to work too.
If you had a choice, would you be fuller figured or super slim?
Fuller figure, I am so glad to be big and beautiful.
What is the favourite part of your body?
My hips, because when you see them, then you will know that hips don't lie.
If you intend to loose weight what method would you use?
I will not loose any chunk of this for no just cause not even an offer will make me loose my weight even if I would be paid I will not loose my weight.
What message would you send to other plus size ladies?
They should believe in themselves and love themselves; they should never look down on themselves.
Are you married?
No I am not; when the time comes I will let you know.
What should we expect from you in the near future?
By the special grace of God, I will like to set up a program that will help encourage the plus size people both men and women to build up the confidence that there is more to being fat because it attracts lots of advantages compared to the slim people.
How do you feel being a Queen?
I feel humbled; I give God the glory for making me a role model to all plus size people in the society.