GOFESTIVAL 2009-MEDIA UNVEIL IN IBADAN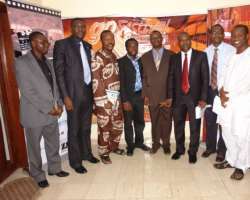 G0SPEL FILM FESTIVAL (GOFESTIVAL) 2009 -A CELEBRATION OF GOSPEL CINEMATIC EXCELLENCE.

BEING THE TEXT OF A PRESS CONFRENCE READ BY MR. OLAITAN FARANPOJO, C.E.O, CALIBRATORS AND CONVENER OF THE FIRST EVER GOSPEL FILM FESTIVAL (GOFESTIVAL) 2009 IN NIGERIA, TODAY TUESDAY 21ST, APRIL, 2009 AT THE JOGOR CENTRE, IBADAN, OYO STATE.
Gentlemen of the Press,
Partners and other Stakeholders present,
Collaborators and Event facilitators,
All and Sundry,
I am highly delighted and honoured to address you today as the convener of the much hyped Gospel Film Festival (GOFESTIVAL), this is its maiden edition. I wish to say that this effort is an effort that have spanned through many years before its materialisation, hence, I give all glory to God for the actualisation and realisation of this dream.
What is the idea behind this festival?
The idea of GOFESTIVAL was borne out of the desire to discover, nurture and establish Nigerian Christian Filmmakers for the future, showcase the abundant resources that abound in the Christian Film Industry while also acknowledging the immense contribution from the pioneer Gospel Filmmakers. The festival will provide an enabling environment for interaction between drama ministers, Film Producers, Directors, Screenwriters, Television producers, Copyrighters, Film schools, Media houses and International Leading Christian Filmmakers.
More, we are by this festival celebrating the Christian side of Nollywood, encourage them to do more and build more capacities for Drama Ministers in Nigeria.

The date of 2009 GOFESTIVAL is between Wednesday 3rd and Saturday 6th, June, 2009 in the ancient city of Ibadan and the venue is the Jogor Centre, Ibadan, Oyo State by 10am daily. This year's theme is CHALLENGES OF THE 21st CENTURY NIGERIAN CHRISTIAN FILMMAKER.
KEY OBJECTIVES OF THE FESTIVAL
 Celebrate the video and film industry which has emerged as a major form of dramatic expression
 Create International exposure and bring African Christian Moviemakers under one roof to share versatility of message and ingenuity
 Re-engineer structures, systems and psyche that will develop the Christian Film Industry
 Create an avenue for the Nurturing and Promotion of African Christian Filmmakers to meet with the challenges of the 21st century filmmaker
 Project the rich culture of Nigeria and indeed the African Continent through the Screening of Movies during the event
PARTNERS
GOFESTIVAL is hosting this event in partnership with some organizations among who are:
- All Nigerian Conference of Evangelical Drama Ministers (ANCEDRAM)
- Nigerian Film Corporation (NFC)
- Nigerian Film and Video Censorship Board (NFCVB)
- The Pencil Film and Television Institute,
- Adventist Health International
- Independent Television Producers Association of Nigeria (ITPAN)
- National Film Institute (NFI)
- Dove Media
- Communicating for Change
ENDORSEMENTS
To further show the wide acceptability of the GOFESTIVAL, it has already been endorsed by the following organizations, to whom some of them are present at this historic Press Conference, at the appropriate time they will equally express their support :
- Mount Zion Faith Ministries
- Christoline Film Academy
- POGEM-TV
- Ife International Film Festival
- RCCG Drama Unit
- Great Victors Productions
- Virtues Christian Centre
- Rock of Ages
- TRECOM International, UK
- EVOM World Network
- 24-7 Magazine
- Calvary World Publication
- FST JOSH
- MOVIETAINMENT
- LAGOS INTERNATIONAL FILM FESTIVAL
- Christian Missionary Fund
- Grace So Amazing Foundation
- LiveWay Productions
- Baptist Media
- ZION Stone Media
- 700 Club
- 92.3 Inspiration FM
- Dove Media
- Kay Technical Audio Visual
- EJ and the Friends of God
- Communicating for change
- Butterfield
- Testimony City Media
It is of note to say that, we have equally received a letter of endorsement and support from our father in the Lord, General Overseer of Redeemed Christian Church of God (RCCG), Pastor Enoch Adejare Adeboye and other men of God who share our vision to take Christian Film Industry to the next level.
PROJECTED PARTICIPANTS EXPECTED
All things being equal, we are expecting over 3,000 Participants cutting across different walks of life, Media, Television Production, Investors, Directors, Screenwriters, Producers, Actors and Actresses.
PROPOSED ACTIVITIES FOR THE FIRST GOSPEL FILM FESTIVAL, GOFESTIVAL 2009
- Opening Ceremony to be performed by the Managing Director of Nigerian Film Corporation Mr. Afolabi Adesanya and Director- General, National Film and Video Censors Board- Mr. Emeka Mba and All Movie Industry Guild Heads and other stakeholders.
- Large Delegation from the All Nigerian Conference of Evangelical Drama Ministers, Major Nigerian Christian Universities e.g BOWEN, Leadcity, Convenant, Redeemer etc.
- Conferences, Seminars, Workshop and Panel Discussions
- GOFESTIVAL will partner with DOVE VISION, NFC, Intercontinental Bank, Ibadan to promote Christian television content, there will be pitching forum for selected scripts and film criticism workshop for practitioners.
- Students from higher institutions will not be left out, there will be THE CAMPUS PANEL where the student from higher institution will discuss, workshops and activities in the Christian movies industries e.g. Cinematography and Directing etc.
WORKSHOP & TRAINING
Many distinguished Nigerian speakers such as the Managing Director (The Pencils Film and Television Institute (PETFI), Ms Biola Adenuga; celebrated Nigerian Christian Filmmaker & President, (Mount Zion Faith Ministries), Evang. Mike Bamiloye, Madu Chikwendu, Director, (Lagos Film Festival), Okechuckwu Ogunjiafor, the man whose movie (Living in Bondage) gave birth to the new face of Nollywood; Sandra Obiago (Director, Communication For Change amidst many others.
Topical issues will be taken by seasoned and erudite speakers like Film Critics by Hyginus Ekwuazi of the Pan African University; Directing by Mark Ku'sare, an International Award Winning Director; Script Interpretation by Victor Oyadiji, Senior Lecturer, (PEFTI) amidst others.
-Mrs. Sandra Obiago; Executive Director, Communicating for Change (Media that Matters).
- Joshua Elekolusi (Interactive Audio Workshop).
EXHIBITIONS
This will hold during the Gospel Film Festival. It will feature exhibition of Christian Motion Pictures, services ideas and Products.
TRIBUTES
2009 GOFESTIVAL will pay tribute to outstanding Christian Filmmakers in Nigerian.
DELEGATIONS
GOFESTIVAL will host FOUR delegations from the United States of America, Republic of Benin, United Kingdom and Kenya.
SCREENINGS/GOLDEN YEARS OF NOLLYWOOD
There will be a special screening of classics. Golden years of Christian films is a retrospective that will focus on the best films from the Christian circle from the first ten years.
UNIVERSITIES
Universities would be encouraged to send in films for competitions this year; we encourage creativity, elevation of filmmaking to every level. There will be life performances, storytelling and presentations which will be anchored by leading Christian in the media.
AWARD/GALA NIGHT
This will start with dignitaries being accorded a RED CARPET reception. Deserving individuals, government administrators and corporate bodies will be honored and recognized for their support for the Christian film industry on the last night of the festival tagged: THE MESSANGERS AWARD.
GOFESTIVAL MESSENGER AWARD The presentation of Nigeria's first Gospel award which recognizes outstanding achievement in Christian films in Nigeria's creative industries including film, media, music, performing and visual arts.
SPEAKERS:
Jarrod McNaughton (USA) – Senior Vice President, Public Relations & Communication, Adventist Health International California USA.
Mr. Larry Mortolf – Experienced Producer, Actor and Director. He just completed a feature film about the early years of great Evangelist Billy Graham.
MUSICAL PERFORMANCE
All through the festival, participants will be treated to the best of soul lifting music from artistes within and outside Nigeria. We will oblige you with necessary information as event unfolds as to who and who are performing at the festival.
CALL FOR SUPPPORT
Being a maiden edition, we expect the enormous challenge that comes with the organization of the festival, hence, in terms of event management and sponsorship drive, we are working closely with two leading firms in the industry, Swift Think Ltd and Zmirage Marketing & Communications (ZMC). We call for unalloyed support from the media whom we have enjoyed good relationship with in the past and also from corporate organizations in order to give the festival the necessary fillip it deserve.
Once again, we promise you the best in terms of content, package and production, as all hands are already on the deck to make statement with this festival.
Thank you all and God bless.

Faranpojo Olaitan
GOFESTIVAL CONVENER

AGENDA
GOSPEL FILM FESTIVAL 2009 PRESS CONFRENCE
TUESDAY APRIL, 21ST, 2009
11.00AM
AGENDA
(1) Opening Prayer
(2) Introduction- organisers/ media/ partners
(3) Opening Remarks- Ayoola Jolayemi- Swift Think Ltd.
(4) Why are we gathered? Press Text Reading- Olaitan Faraponjo, GOFESTIVAL Convener
(5) Logo Presentation – Alayande Stephen T.- ZMC
(6) Other Remarks- Mike Bamiloye/ Segun Okeowo (ANCEDRAM President)/ZMC/ Swift Think Ltd.
(7) Reactions/ Questions/ Remarks
(8) Closing Remarks
(9) Closing Prayer
NB- Venue and Facility tour followed immediately after the Press Conference.