Stephanie Okereke, Chaka Khan, Mo'nique, others for US awards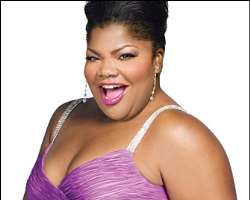 It is no longer news that the organizers of the revered African Jewel Award, African Focus Incorporated (AFI), US, has picked Stephanie Okereke, an award-winning Nollywood actress, as one of the recipients at this year's event. What is however news, is that the ravishing actress, would be jetting out early next week, for the prestigious award that holds on Saturday, April 25, 2009, at the Veterans Memorial Complex, US. Sexy Okereke will be honoured alongside other global stars and selected celebrities.
According to the organizers, Okereke's tenacity, wit, intelligence, grace and natural acting abilities has earned her a reputation as one of the best actresses on the African continent and in Nollywood, the third largest film industry in the world. A graduate of English and Literal studies, Okereke made her first venture into film in 1997. By 2003, she had already won the Reel Awards "Best Actress" for her role in the movie "Emotional Crack." In 2005, she was a nominee for the Africa Movie Academy Awards [AMAA], as well as the recently held 2009 edition. On her way to AMAA, however, tragedy struck when she was involved in a terrible car accident that left her with a broken leg and burns on her face and hands. Okereke, with a fighting and determined spirit, bounced back and by 2006, she won the Afro-Hollywood Awards, Film Makers USA Award for Excellence with subsequent awards in 2007 for the Miriam Makeba Award for Excellence and 2008 Beyond the Tears
Humanitarian Awards for her work against rape and vesico vaginal fistula and HIV/AIDS.
Not satisfied with being just an actress and wanting to create a voice and other roles for African women in Africa's film industry, Okereke came to the United States to study film at the New York Film Academy at Universal Studios, Los Angeles. Armed with her knowledge, intelligence, determination and creativity, Okereke established her production company "Next Page Productions" and has recently expanded her portfolio to include the titles of director, writer and producer in her first feature Hollywood-Nollywood hybrid film, "Through the Glass," creating what she hopes is a preview of the direction and roles African women will embrace in the film industry. Amazingly, the film was up for nomination in this year's AMAA, for the Best Picture category. Other distinguished nominees alongside Miss Okereke, at the forthcoming event also known as African Goodwill Awards, include: US born and Grammy award winning singer, Chaka Khan, Dame Patience Goodluck
Jonathan, Mo'nique Hicks, Hope Foye, apostle Frederick Price and few others.