I don't go after age---Soul E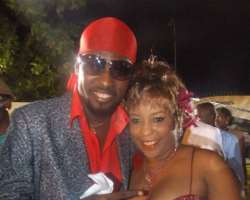 How do you combine your musical career with your pastoral duties
S "Now let me clarify this. The church thing is my ex's thing. She's the one handling it. When we were together, everyone presumed that it was my thing, but I only gave her the support. But right now that we are no longer together, she's handling the ministry. I am a musician, that is all I do, but of course I go to church, I love my God."
But the general notion is that you are the founder of the church
S "That's what everybody thought, bu that was not the real thing. It was her church. She is the pastor of the church, but of course because I am a limelight person and she was my girl, everybody around presumed that Soul E was the pastor of the church. But the truth of the matter is that, it is her church. She founded the church."
Talking about your ex, you were warned by Pastor Chris Okotie not to get married due to age difference and other things. Why did you go ahead with the marriage?
S "There's something about Soul E, I don't go after what people think is right. I go after what I believe in. People go into relationship and break up. The same person you just talked about now broke up from a marriage too."
It is alleged that you have a preference for older women
S "If I see a woman that I love whether she old pass me or not, I will go for her. It is not a matter of prefering older women, it is a matter of does Soul E really love this person. I go after what I love. I don't go after age. Meanwhile no be only me marry person wey old pass am, plenty people don do am."
Your ex sometime ago said that your marriage packed up due to financial reason. Was that the basis of your marriage?
S "I didn't marry because of finance. I don't go into relationships because of finace. Finance is secondary, money comes and goes. If she said that, well you can go and interview her and let her say that but me I don't know what that is. In fact, it is not true and can never be true."
But she was said to have financially supported you
S "Let me ask you a question, if you are in a relationship with a woman you call your wife, whatever she does to her business or however she supports her husband is not a big deal. That she supports you is not an issue. I have seen cases where a girl built a house for her boyfriend"
Really? lol
Is there any room for reconciliation?
S "We are good friends. She has moved on, I have moved on.
And that my people... is the end :)