Internet scam alert! Ramsey Nouah cries out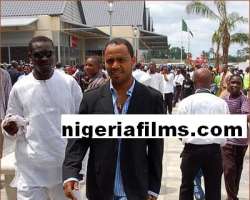 Top actor, Ramsey Tokunbo Nouah has been in the news of late. First was a report by a soft sell magazine that he has been battering his wife. Another was that he planned to marry one Osas while the latest, which is the most destructive one, is that he is involved in a 419 scam on the social-utility website, facebook.
Report went to town last week that one unscrupulous man who claims to be Ramsey on facebook has been pleading for help and campaigning that he was raising money for one baby Cecil who was allegedly suffering from sickle cell. His campaign heeded result, especially when the picture on his facebook profile was none other than that of the famous actor Ramsey.
One Laura Eruoto Ojomo from Finland was moved and decided to help. She asked for account details and was shocked to receive a personal account number when our guy claimed to be working for a non-governmental organisation (NGO). She got curious and asked for details like website, phone number and the likes. Her curiosity got her deregistered on the guy's friends' list. Knowing that the guy was fake, Ojomo decided to alert the public.
When we spoke with Ramsey on the development, he vehemently denied the story and said he has never been on facebook. He also expressed his bitterness at those who peddle such stories and reporters who don't get their facts right. "A guy actually called me and sent me a text. I called him and replied the text.
This is about the third time in two months that they are writing craps about me. One was that I was beating my wife. That was followed by reports that I want to marry a lady that I supposedly took to my parent and here is another one. And these people get their reports from facebook. I've never been on facebook, and I'm not on facebook. There are about four people on facebook who claim to be Ramsey Nouah. I am not either of them and I did not give anybody the go ahead for such a thing. All those things from facebook are lies by impostors.
These people are just trying to make me bad when I'm not. These guys from the soft sell are just creating stories about me. I am not on facebook and I don't know anything about the account given on facebook. I am still trying to contact Oceanic Bank to see if that account actually exists. I am bitter about the report especially with the tone used. They wrote as if they don't believe me and they claimed I couldn't be reached when I spoke with the guy. People should just get their fact right before they publish.'