Nigeria's unconvincing show at the 2009 AMAA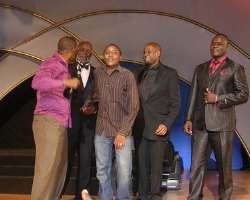 Quantity doesn't translate to quality. This was the lesson Nigerian filmmakers and artists learnt at the fifth UBA-AMAA, Africa's movie awards, concluded on Sunday morning in Yenagoa, Bayelsa State, as a single Kenyan movie won the most notable awards.
It wasn't a convincing outing for the self-touted third largest producer of film in the world as 'From a Whisper' which explores the 1997 bombing of the American Embassy in Nairobi, Kenya, took away prizes for Best Picture, Best Screenplay, Best Director, Best Original Soundtrack and Best Edited movie.
Coming of Age, another Kenyan movie won the Best Documentary (Short Subject) category.Overall, Kenyan productions won six awards at the ceremony while those from Nigeria won seven prizes though not in the expected categories.
Egyptian, Ugandan, South African and Nigerien movies also went home with prizes at the event.
Seventh Heaven, a movie from Egypt won the Achievement in Sound prize while the film's lead actor, Farouk Alfishawi took the Best Actor prize.
Litha Booi and Lungelo Dhladha of South Africa won the Most promising Actor and Most Promising Actress prizes respectively for their roles in Gugu and Andile.
The judges also declared the film the Best in African Language in spite of the fact that Nigeria also had three films nominated in this category.
Joel Okunyo Prynce of Uganda emerged the Best Supporting Actor for his role in Battle of the Soul.
However, it wasn't all gloom for Nigeria at the awards ceremony compered by Julius Agwu and Kate Henshaw-Nuttal.
Funke Akindele won the battle of Nigerian sisters as she took the Best Actress Award for her role in Jenifa.
She piped Stephanie Okereke and Nse Etim, Stella Damasus and Nadia Buari to the prize.Michelle Bello's Small Boy also redeemed Nigeria's image as it won in two categories; the Best in Art Direction category and Best Performance by a Child Actor prize. Richard Chukwuma took the prize.
Ace cinematographers, Tunde Kelani and Izu Ojukwu's films also boosted Nigeria's outing. Kelani's Arugba won for the Best Costume while Ojukwu's Cindy's Notes took the Best Prize in Cinematography.
Similarly, Nigeria's Mercy Johnson won the Best Supporting Actress Prize for her role in Live to Remember.
In another telling indictment of Nigeria's effort at animation, no movie from Nigeria made the nominee's shortlist. Kono from Burkina Faso won the prize.Interestingly, Tunde Kelani tactically conceded defeat to the rest of Africa but made a promise on behalf of other Nigerian filmmakers that it won't be the same story at the 2010 edition of the awards.
Nigeria's Zeb Ejiro and Burkina Faso's Gaston Kabure were given lifetime achievement awards at the ceremony attended by the cream of Africa's finest filmmakers and artists as well as Hollywood's Danny Glover and Forest Whitaker.