Top Nigerian celebrities with crashed marriages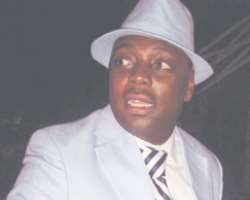 They were made in heaven or so it seemed and celebrated in the media. However, like the cookie, they crumbled, pitching those who once declared unwavering love for each other as sworn enemies.Today, Stardom takes a look at celebrity marriages that failed to fly in the entertainment industry.
Uche Osutule and Obi Osutule
They started dating at the dawn of Nollywod after they hooked up on the set of a top movie producer. Their relationship was celebrated in the media after they tied the knot in a colourful ceremony. Uche was the darling of the screen while Obi was a director. However, it came crashing like a pack of dominoes and both partners called it quits. Today, they have both remarried and the union bore no off springs.
Evi and Emma Ogoli
If Evi Edna was the vocal powerhouse, then, Emma Ogoli was the secret behind her success. He not only produced her, he also managed her. From managing her music, he soon began managing her heart and soon they both walked down the aisle. In the 1980s, Evi serenaded us with her hit songs, Ya Kpe Obaro and Happy Birthday, evergreen songs that established her as a household name. However, they failed to consolidate on the success of the union and they parted ways. Unconfirmed reports indicate that Evi has relocated to France while Emma has since relocated to the East.
Mandators
To this day, Victor Essiet still carries the cross of his wife's death because many continue to blame him for the untimely death of Peggy Essiet.
Though they ruled our airwaves with their hit song, Tribulations, they couldn't avert the tribulation that struck their marriage. After a successful second outing, the couple broke up and Victor relocated to the USA. Peggy had made a bold move to re-invent herself when she dropped an album in the early 1990s but the cold hands of death snatched her away, living behind their kids.
Saheed and Fathia Balogun
Saheed and Fathia Balogun were the poster couple of the industry. Saheed always took time out to tell the world how rock solid his union with Fatia was. He spared no word in praising her to the highest heavens. That was until disaster struck after a close pal of Saheed's was alleged to be having trysts with his wife. The actor/producer was said to have done all he could to save his marriage from going under because they already had two kids together.
However, it seemed that their differences were irreconcilable and the drifted apart. But last year, Fatia made attempts to be reunited with her husband unsuccessfully. She had even dedicated an award she won in the UK to him and enlisted top Yoruba actors, including the likes of Jide Kosoko to help plead her course. But to his day, Shed remains adamant, insisting that their union is buried in the graveyard of history.
Shan George and Mr. Nwosisi
When she hooked up with her second husband, she told the world it was for good. But her marriage to her foreign based husband, Mr. Nwosisi was shot-lived. Last year she told NFC that the reason she deserted her matrimonial home was because she was not ready for a servant/master relationship.
According to her, Nwosisi reduced her to a servant and so she had to quit. Meanwhile she has grown up kids from her first marriage that are based in the UK with her first husband. Word has it that she is currently dating a toy boy. Shan got married at the tender age of 16 and after bearing two kids walked out of the union because her husband would not send her to school.
Eucharia Anunobi and Mr. Ekwu
Her forte is acting bitchy roles in movies. The question now is, could that have affected her marriage? Was she bitchy to her husband?
Full-bodied actress, Eucharia Anunobi probably believed that she had found Mr. Right when she hooked up and married her knight in the shining amour, Mr. Ekwu.
However, he soon went AWOL, dumping his matrimonial home and in the process, also abandoning his child. Unconfirmed reports claim that Mr. Ekwu chickened out of the union because he was unable to fulfil his financial obligations to the union. However, she recently boasted in a national daily that she would remarry again.
Ann Njemanze and Segun Arinze
Newly wedded Segun Arinze once dated Ann Njemanze and despite the union producing a baby girl, the pair failed to take it to the next level. Amidst accusations and counter accusations, the union crumbled and both went their separate ways. Segun is now happily married.
Steph Nora Okereke and Mr. Falana
To this day, it is still not clear what happened to this love birds. They were both Nollywood practitioners who professed so much love for each other. While Steph Nora was of Eastern extraction, Falana was of Yoruba parentage. They met and married in Nollywod a few years ago. However, the marriage had scarcely been consummated when Falana popped into the blues, leaving Steph in the lurch.
According to unconfirmed reports, the couple met at an event in the UK last year. It was the first time Steph was seeing her lover boy since he disappeared from home in Surulere, Lagos. If she had been expecting a hug from him, she was shocked to her marrows. Falana simply ignored her while he greeted everybody around.
Patricia Leons and Ali Baba
From day one, skeptics wrote off the union. Reason: Patricia was much older than Nigeria's most successful comedian, Ali Baba.
They were two successful people. While Patricia was on top of her career, Ali Baba was undoubtedly Nigeria's king of comedy but rumuors persisted that she was picking up Ali Baba and connecting him to the high and mighty. However, the relationship has since collapsed and Ali Baba has remarried.
Kingsley Ogoro and Esse Agesse.
Go Back To The Basics, remember that hit song by Esse Agesse? Well, it was like she and her husband, Kingsley Ogoro never got back to the basics. They had no sooner tied the knot when Kingsley killed her career by making her a full time housewife. Esse was forced to kiss her dreams good bye for the man she loved.
However, it soon dawned on her that she had ended up with the wrong side of the stick when she was said to have caught her husband in bed with a singer. The bubble burst and she walked out of the union. However, there is talk of a possible reunion in the air.
Alec Godwin & Kefee
They hooked up when Keffe was just 16 at Alec's dad's church in Sapele. But the age difference did not stop Alec from toasting the girl who would later become Kefee, one of Nigeria's most successful gospel acts. While Keffe did the singing, Alec did the production and management. Overnight, Keffe was transformed into a household name.
However, cracks soon appeared on the wall that all was not well with the union when they parted ways last year amidst accusations of battering, anal sex and infidelity.The union had no offspring.
Soul E & Queen Ure
They told everyone that their union was made in heaven. Enraged by their antics, Pastor Chris Okotie of The Household of God had excommunicated them from his church in 2006, after they announced plans to get married.
Okotie had insisted that the union was founded on fantasy because Soul E was just 24 while Ure was 38 years-old. However, undaunted, they found their own church, Da Luv Villa at Omole Estate, Ojodu, Lagos. Back in the day, Ure had said that she was praying for twins so that she would get over the issue of motherhood quickly and face her career. Until late last year, when Soul E suddenly packed his bags and ran away from home,
Ure was still living her dream. However, when reality came crashing in, it suddenly dawned on her that her dreams were a stillbirth. She has since returned to her job as a banker, which she resigned in order to manage Soul E's career. Meanwhile, Soul E has resurfaced but is keeping a safe distance from what he once called home. He's currently working on his next album.