Gabosky returns, says "I am ready to take Nollywood by storm"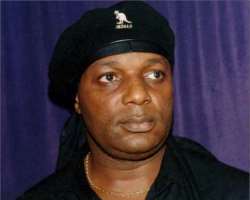 NOLLYWOOD big pocket and electronics magnate, Igwe Gab Onyi Okoye, also known as Igwe Gabasky returned from a well consummated trip abroad last week and declared that all was set for his company to make an elaborate statement in the Nigerian movie industry, just as it did at the inception of Nollywood.
The trip, according to him afforded him the opportunity to get acquainted with latest technological formats being applied in modern day film making.
Asked about he the distribution points he promised would be established in every state of Nigeria, he replied. "We are making good progress. Though it has not been easy because the corporate bodies who promised to partner us in the deal started showing lukewarm attitude along the way. But we have braced courage and achieved what we can.
"As I speak to you, the states we have covered in the process of establishing film selling points has been as a result of my personal efforts with funds that I am pulling out from my other businesses."
He however promised that before the end of the second quearter of the year, the ten thousand film selling points through out the Federation that his company promised to establish must have been in place.