I'm not wedding a South East governor — Bukky Wright debunks rumour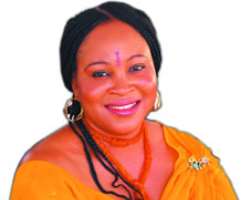 She is an ageless beauty and super actress with two wonderful children and life seems to have been very good to her. But one thing that has plagued her like bees to honey is scandals and unfounded rumours.
One rumour that is making the round in the industry and soft sell journals is that Bukky Wright is getting married to an ex-governor of one of the South Western states. Not only that, the rumour mongers also say she is dating one Donald Obaseki who donated N500 000 at the launch and premier of her movie, Omotara Johnson recently. We spoke with her at a movie location and she denied both allegations.
'If I am getting married, I'm sure you will be one of the first to know. I am not getting married to any ex-governor and I am not dating anybody like that. I am not dating any Donald as well. Many people donated at the premier, so I don't understand where the dating issue came in.'
As per donations we know Dr Wale Babalakin donated one million naira, while Mr Olumide Wole Madariola, the man behind Fut Conceptus played prominent roles long before the premier. So given that people now say Bukky dates people that donated she must be dating Babalakin and Madariola too! 'These rumours are unfounded. Successful women in our society are always dating somebody according to rumour mongers. How men would she date? Asked one of her fans