I'm Ready For Sexual Harassment------ Wuraola Adesehe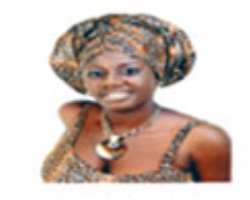 You could call Wuraola Adesehe a greenhorn in the Nigerian movie industry and get away with it. But that is not to indicate she does not know what she wants from the industry, which she has fallen in love with after the success of her secondary school mate and friend, Genevieve Nnaji.
"I am in the Nigerian movie industry for so many reasons, which include money, fame, pleasure and other personal reasons," the busty actress said.
According to the English language student of the Lagos State University (LASU), Anthony Campus, she is enjoying the fame that comes with her acting career.
"It's so funny because acting is quite rewarding financially, spiritually and career-wise. Like a few days ago, I was at the salon and everyone was saying 'ahh, that's the actress that we see on TV.' I like that and I was happy that I am beginning to attain my dreams."
However, how is she going to manage stardom?
"I cannot specifically say how well I can or will manage stardom because only God knows tomorrow and no one is perfect but I'm trying as much as possible to avoid scandal.
"I really enjoy doing what I do. I'm fresh and I played the lead role as Kofoworola in Afiwo. I have three other movies to my credit and I would be going for another production in a few days time. It's a dream come true for me," she said.
Her decision to go into the make-believe world is something that has remained fascinating to those who know her well. She has always said that she was drawn into the profession as a result of a friend's success in the industry.
"Actually, my friend Genevieve (Nnaji) inspired me and I remember we used to be friends in secondary school. We both went to Girls High School, Iyana Ipaja, (Lagos). She told me then that she was going for an audition but I wasn't interested then and that was it. Before I knew it, she was on the pages
of newspapers, on TV and she had suddenly become a star. I felt I could also do what she is able to do and do better. We lost contact since then but I believe we would meet at the top some day."
Wuraola believes she has what it takes to stay long in the industry and beat other contemporaries to several awards.
"I'm confident, courageous, outspoken, simple, caring and loving. I won't want to say I am talented because I would like to leave that to the fans. But I know I am determined to become one of the most sought after actresses and I sure know I would go very far. These things should make me grow in the industry."
Now in the final year at LASU, the stress of combining education, and even the notoriety of Nollywood's sexual shenanigans, not to mention several other distractions, Wuraola is not fazed and believes she is ready to make it to the top in the industry.
"I am 100 per cent prepared for the odds, which include sexual harassment because it happens everywhere, in politics, conglomerates and every sector of the economy. It's something you would have to cope with when you get to that bridge and that is when you can tell how to cross it. But I can't say anything now on that, but surely, I know I am 100 per cent prepared for it."
She further said producers or directors who ask for sex in exchange for a role are not really a problem for her since she gets called to perform as a result of her acting skill.
"Why would any producer or director want to do that with me or to me? I don't go begging for roles, they call me for auditions and roles based on my talent. If they should be begging me with anything, it would be with loads of money and not wanting to have sex with me!
"So, I don't think anyone would do that. But, we all do crazy things in the dark," Wuraola said.
What would she do if her man asks her to quit acting despite the love, fame and pleasure she might have acquired?
"I am not in any relationship at the moment. But anyone that is ready to fall in love with me should also fall in love with my job," was simply her response.
There was an alleged romance between star actress, Mercy Aigbe and auto dealer, Lanre Gentry recently.
However, the sultry actress told http://www.nollywoodgists.com this was not the case.
Mercy said that she was not only surprised to hear the story but was baffled because she had nothing to do with the man.
"I don't know where the originators of the story got it from and nobody even called to confirm or hear my side before writing the tale about me.
"The story is baseless and I simply do not know what to say. I have decided to develop a thick skin but this is just baseless and untrue.
"Yeah, I know the man called Lanre Gentry. I met him when I was on location for a Foluke Daramola flick. He owns a hotel and Foluke lodged the cast and crew in his hotel. That was when I met him.
"I don't have anything whatsoever to do with him and the story now about us dating is something I do not understand.
"I would like to say here that I have nothing to do with him. All I want is to focus on my movie career and make a great name for myself," said the screen goddess, who broke into limelight a few years back.