In the nude'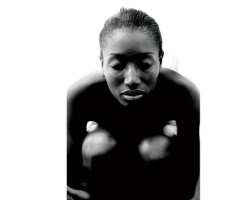 Photography: VICTOR EHIKHAMENOR
Get the secrets to natural-looking make-up.
Do you know a woman whose skin always looks beautiful and who always seems to look fresh and alive yet never seems to wear much makeup? I'm going to let you in on that woman's secret.
She's probably wearing as much make-up as you. What that smart woman has done is master the art of applying nude or natural make-up.
So while you and everyone else around her compliments her on her lovely skin, she is mentally thanking the maestros behind her chosen make-up brand.
I've let you in on her secret but that's of no use to you unless you know how to create this uber-subtle look yourself so here are some tips to get you started: Only use foundation if you absolutely need it. The key to the nude look is to get as close to natural as possible. So if you have good skin, don't cover it up.
All you need is a bit of translucent powder to keep shine at bay. If you do need foundation, apply it only where necessary. Dot a bit of foundation over blemishes, over dark circles under the eyes and around the nose, and blend properly. Tide marks, especially around the jaw and hairline, give away the fact that you're wearing foundation.
Always use the minimum coverage of foundation you can get away with. So if it's daytime and you only have a few blemishes, choose a light-textured cream to- powder foundation. Cream foundations are great if you have a lot to conceal. 'Set' foundation with a light dusting of powder.
Keep cheeks bare when going for the nude look. Black women don't blush, so forget all that contouring and shading with blusher if you want to look natural. Brown, peachy, and coppery eye shadows (depending on your skin colour) work well for this look.
Choose a neutral colour, with a bit of shimmer for some variety. There is a whole host of colours to choose from when it comes to the lips. Brown, peach and even light orange lip colours are all in tune with the nude look.
The peaches, pinks and oranges are better suited to light-skinned ladies, while light and dark-browns are the perfect neutral colours for darker ladies.
By Ikepo Adedeji