Eedris Abdulkareem asked me to slap Obasanjo -one kilo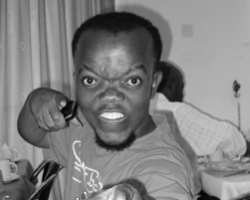 Diminutive Ayinde Ganiu, a.k.a One Kilo, is one of the comic dancers with Nigerian rap star Eedris Abdulkareem. Starting off as a dancer, One Kilo has within a short time garnered so much experience in music that he has produced his own album which will hit the airwaves soon. He spoke on his marriage to a German lady Angela, journey to stardom and the fame his physique has brought to him.
Working with Eedris?
I have been working with him for four years, Eedris has changed my life. Before I met him I was hawking video films on the road. And when I met Eeedris, he employed me as a dancer, but now I can sing. My album is coming out soon and it's under La Creme Records owned by Eedris. The title of the ten track album is Ololufemi. Eedris featured in one of the tracks.
How you met him?
The first time I met Eedris, I was with my people, about five of us. He called me and asked if I can slap Obasanjo. I was like, what do you mean by asking me to slap Obasanjo? I told my people that we should leave, but inside me I said, no wonder he sang Nigeria Jagajaga! But when I heard the money he wanted to pay us I said ha, that's a huge sum of money and I went back and said, Bros, sebi it's just to slap Obasanjo, let's go now. We took a flight from Lagos to Abuja straight to Aso Rock. We went to Aso Rock to perform for the Sunami disaster funds. When I saw Obasanjo one on one my heart was shaking;
I was like Eedris has killed me and Obasanjo looked at me. Eedris came and asked what I was doing, that I wasn't doing what he asked me to do and he said, Don't play with me, you are seeing Obasanjo now, you must do the right thing. I now went to Obasanjo; I was dancing and when I got to him I dragged his agbada, and he looked at me and smiled. After the show, Eedris came to me and asked, is that what I asked you to do, but I told him, after all I dragged his agbada, do you think it's easy (general laughter). I didn't know Eedris asked me to do all this just to try my courage. He told me look, I can see that you have the courage, from now on you will be working with La Creme Records. Since then I've gone with him to several shows and places, some countries in Africa, Germany, London, Spain, Greece, Switzerland, lots of countries in Europe. Eedris has really changed my life.
Do these foreigners receive you well?
They receive me well. I can go to Germany anytime and anywhere I go, they just say, Kilo, how are you?
Are you attracted to their women?
Yes. In fact, I'm married to a German woman. I have a black in Nigeria and a white lady in Germany.
How did you meet her?
I and Eedris went to a club in Germany, and she saw me and came over to meet me. She spoke a little German and introduced herself as Angela and asked after my name. I told her that I am called One Kilo and thereafter I bought a drink for her. She asked me if I was married and I said no. She said she is searching and I told her I was searching too; she took me to her house later and introduce me to her family and we started a relationship. And I got married to her. We had a court wedding.
Are you the one taking care of her?
Of course. She is a big girl. Her mother has 17 nightclubs.
What do you like about her?
She is pretty, I love her character, she is caring, and I love everything about her.
Will she come to Nigeria?
Yes, she will come to Nigeria.
What of your Nigerian wife She is a dwarf too. Can you cope with the two women?
I married a black and a white and both are far away. I always visit her in Germany. I am a citizen of Germany, so I can.
You intend to raise kids with the white woman?
Yes.
Is your Nigerian wife not jealous?
No, she is not.
Did you tell her?
No, but she is aware.
But you married her first
Yes, but we didn't wed in the church, though she has two kids for me. The first child is a dwarf but the second one is tall. A girl and a boy!
Does the white woman know that you're married?
No, you want to kill me.
But women still make passes at you?
Of course, I am a star, everywhere I go I entertain people and they want to come close to me.
Where did you spend your last Valentine with your wife?
I am an artiste, I wasn't around, we went for a show in Warri
The name One Kilo?
Eedris gave me the name. When he asked my name I said Ganiyu and he asked of my nick name; I told him small kilo and he said he doesn't like it. After looking at me from head to toe, he said why don't you change it to one kilo.
Ever been intimidated because of your size?
No. I am a friendly guy and nobody has ever embarrassed me.
Your extended family ?
I am the only dwarf out of the five of us and I am the last born. From my dad I am the only child. My mother was married before she married my dad.
How do your siblings treat you?
They like me.
Where are you from?
Ogun State.
Have you met your governor?
No. But I've met the Kano State Governor, Ibrahim Shekarau, the former Cross River State governor, Donald Duke and former Lagos State Governor, Bola Tinubu.
Why do you think women always want to dance with you on stage?
Its show biz, they will like me to entertain the crowd. Most of them want to get close to me because I m funny. I am proud of my nature; I've no regret being a dwarf.
Education?
I couldn't finish my O levels.
Most memorable experience?
The first time I met Eedris and he took me to Aso Rock, I can never forget that experience. Eedris has changed my life.
What kind of music do you play?
Fuji hip hop and R&B. My song Ololufemi is about a girl I fell in love with. Both of us love each other but her parents refused to allow me marry her because they said I am a dwarf.